Fox 8 News interviewed firefighters at Greensboro Fire Station #4 in North Carolina who were looking for ways to improve their response time. They found Rytec high performance doors would be able to do exactly that, and shorten door opening speeds to just 3 seconds – significantly faster than 27 to 40 seconds required with non-Rytec doors. View the entire story and video with the link below.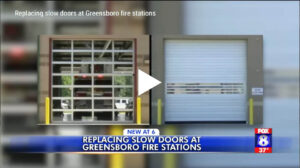 https://myfox8.com/2019/01/29/replacing-slow-doors-at-greensboro-fire-stations/
Rytec High Performance Doors increase speed and help improve efficiency in a variety of industries and applications from first responders to auto dealers to warehouse and distribution facilities. Our customers depend on our doors to be the best in the industry. Rytec – Quality. Performance. Reliability.