The Rytec Document Resource Center is an online reference center of useful, detailed product information. Materials that may be found in it include warranty, manuals, bulletins, technical drawings, scope of work documents, brochures, product sheets and more. Information regarding legacy products will only be listed within the Document Resource Center. However, information on current products also may be found throughout the main Rytec website. Content is organized by various categories and by door model, and is keyword searchable.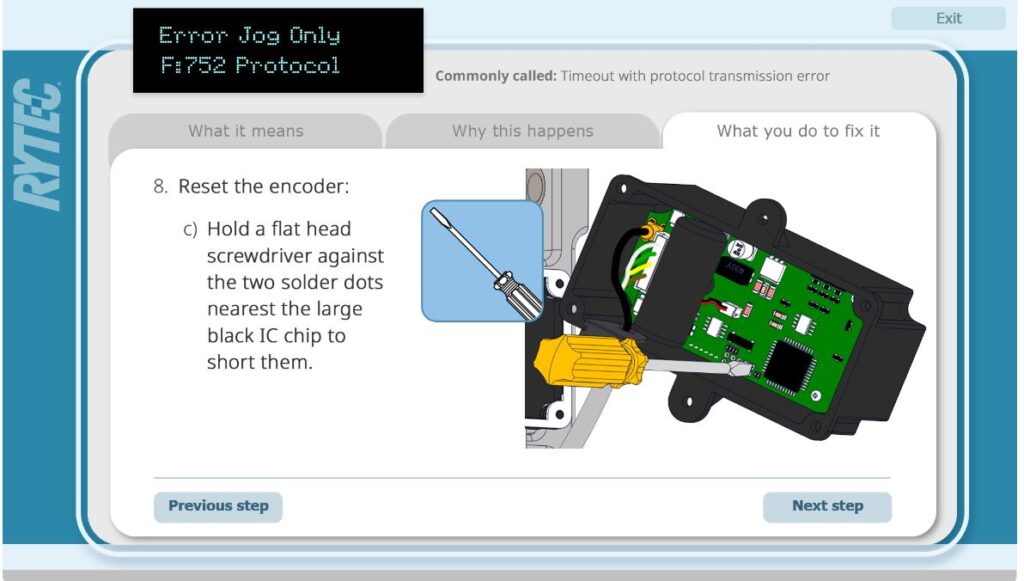 TEC - Technical Education Center
Learn about our online Technical Education Center (TEC) platform. It is continually being updated with new exclusive training videos, courses, and detailed technical information including parameters and error codes, and live roundtable sessions. 
| wdt_ID | File Icon | File Name | File Category | File Type | File Link |
| --- | --- | --- | --- | --- | --- |
| 1585 | | Pharma-Roll Limited Warranty | Pharma-Roll | Warranties | |
| 1586 | | Pharma-Seal Limited Warranty | Pharma-Seal | Warranties | |
| 1587 | | Plexline Limited Warranty | Plexline | Warranties | |
| 1588 | | Powerhouse SD Architectural Drawing | Powerhouse SD | Architectural Drawings | |
| 1589 | | PredaDoor NXT Limited Warranty | PredaCool | Warranties | |
| 1590 | | Spiral Architectural Specification | Spiral | Architectural Specification | |
| 1591 | | Spiral Product Information Sheet | Spiral | Product Information Sheets | |
| 1592 | | Spiral Product Information Sheet (French Can.) | Spiral | Product Information Sheets | |
| 1593 | | Spiral Series Limited Warranty | Spiral | Warranties | |
| 1594 | | Spiral to 13' 1" Wide and 13' 1" Tall Architectural Drawing | Spiral | Architectural Drawings | |
| 1595 | | Spiral to 20' Wide and 21' Tall Architectural Drawing | Spiral | Architectural Drawings | |
| 1596 | | Spiral to 26' 3" Wide and 16' 4" Tall Architectural Drawing | Spiral | Architectural Drawings | |
| 1598 | | Sure-Seal Limited Warranty | Sure-Seal | Warranties | |
| 1599 | | Turbo-Seal Insulated Limited Warranty | Turbo-Seal Insulated | Warranties | |
| 1600 | | Turbo-Seal Series Limited Warranty | Turbo-Seal | Warranties | |
| 1601 | | Turbo-Slide Limited Warranty | Turbo-Slide | Warranties | |
| 1602 | | Clean-Roll Electrical Scope of Work | Clean-Roll | Electrical Scope of Work | |
| 1603 | | Spiral VP Balanced BIM Revit File | Spiral VP | BIM Revit File | |
| 1604 | | Turbo-Slide Bi-Parting BIM Revit File | Turbo-Slide | BIM Revit File | |
| 1605 | | Turbo-Slide Single Slide BIM Revit File | Turbo-Slide | BIM Revit File | |
| 1606 | | Clean-Roll BIM Revit File | Clean-Roll | BIM Revit File | |
| 1607 | | Pharma-Seal BIM Revit File | Pharma-Seal | BIM Revit File | |
| 1608 | | Spiral BIM Revit File | Spiral | BIM Revit File | |
| 1609 | | Spiral FV BIM Revit File | Spiral FV | BIM Revit File | |
| 1610 | | Spiral HZ BIM Revit File | Spiral HZ | BIM Revit File | |
| | | | File Category | File Type | |