Turbo-Slide® High-Performance Door
With proprietary technology and a superior design, the Turbo-Slide® high-performance insulated sliding door provides advanced thermal features to endure the rigorous demands of cold storage environments. With R-values ranging from R-17 up to R-40, the Turbo-Slide® freezer warehouse sliding door offers excellent energy efficiency along with an innovative design that enables the door to withstand accidental impact with easy realignment.
The Turbo-Slide® is ideal for cold storage and food & beverage operations, where increased productivity and energy efficiency are paramount and can be built up to 12′ wide x 18′ 6″ high.
Using state-of-the-art technology, door panels are up to 50% lighter than conventional sliding door panels.
Opening speeds of up to 125 inches per second provide nearly instant access to the full height of the door opening.
Full perimeter seal secures the thermal envelope and provides a tight seal on all edges.
Available in single slide and bi-parting models.
Dual thru-beam photo eyes detect movement close to the door and will reverse to the open position.
Manual release handle in case of power outage.
Flex-Panel® with an EVA foam core (R-17 to R-40)
Thermoplastic outer shell
Polyurethane elastomer edge seal
Multi-layered PVC-coated polyester fabric bottom sweep
Heavy-duty galvanized steel track assembly
Heated gasket system to prevent icing around the opening
USDA & FDA seal
Stainless steel hood & motor cover
Velcro® or sealed perimeter skirt
Single-slide or bi-parting panel configuration

See the Turbo-Slide® in Action
High-Speed, Highly Insulated, and Practically Unstoppable
Product Sheets
Manuals
Drawings
Architect Resources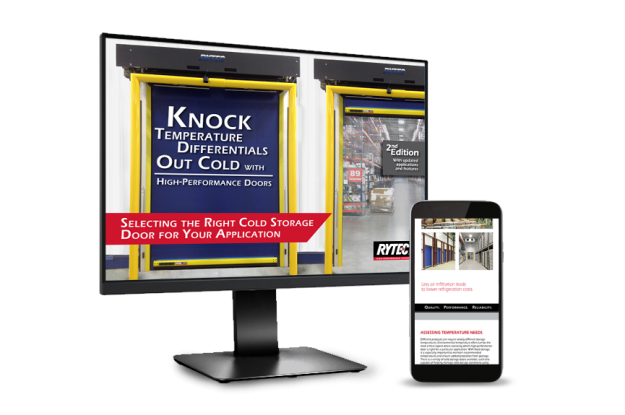 Selecting the Right Cold Storage Door
Download our newly updated 2nd edition FREE Guide: Knock Temperature Differentials Out Cold – with High Performance Doors. You Will Learn the How and Why of: