Turbo-Seal® Insulated Door
With an average operational speed of over 101 inches per second and extraordinary insulating capability, the Turbo-Seal® Insulated roll-up door is the definitive solution for cold storage environments. This revolutionary door is built on the proven Turbo-Seal® platform for unmatched reliability and lasting performance.
The Turbo-Seal® Insulated is ideal for interior cold storage and food & beverage operations and can be built up to 12′ wide x 21′ high.
Engineered to withstand the rigors of a freezer environment, but provide optimal operational & energy efficiency.
With opening speed up to 182 inches per second, environmental control and traffic flow are optimized.
Extremely high-speed operation, self-repairing and unmatched thermal performance ensure reliability.
Intuitive and Customizable Pathwatch® Safety Light System provides advanced warning to vehicle drivers and pedestrians.
Dual thru-beam photo eyes detect movement close to the door and will reverse to the open position.
A sensitivity-adjustable pneumatic reversing edge reverses door if anything comes in contact with it.
Ry-Wi® Wireless System eliminates coil cords and provides two-way communication between control box and bottom bar.
Rylon® thermal door panel (R-4 insulated value)
Self-supporting steel side frames with four fiberglass protrusions
Thermal breaks integrated throughout the door
Composite Break-Away™ bottom bar
Integrated bottom/edge seal
Full-height quad brush seals
Edge-to-edge brush seal at top of door
Single Source Transformer

See the Rytec Turbo-Seal® Insulated Door in Action
Simply the World's Fastest, Most Energy-Efficient Insulated Door
Product Sheets
Manuals
Drawings
Architect Resources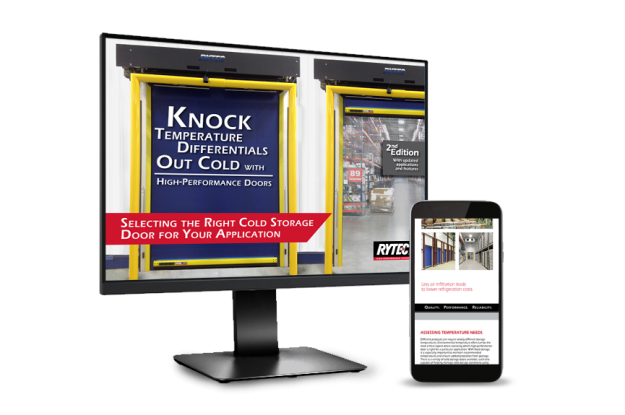 Selecting the Right Cold Storage Door
Download our newly updated 2nd edition FREE Guide: Knock Temperature Differentials Out Cold – with High Performance Doors. You Will Learn the How and Why of: