Turbo-Seal® Freezer Door
The Turbo-Seal Freezer provides minimized air infiltration and improved traffic flow by using high-speed operation and a tight full perimeter seal. Heated side columns and defrost system options virtually eliminate frost build-up. When it comes to high-speed roll-up freezer doors the Turbo-Seal Freezer is designed to meet the unique needs of cold storage facilities while maintaining a low profile, permitting it to fit almost anywhere.
Ideal for cold storage and food and beverage operations, the Turbo-Seal Freezer and Cooler doors can be built up to 10′ wide x 14′ high.
Vinyl seals and a durable door panel provide a tight seal when the door is closed, reducing frost build-up and conserving energy.
Opening speeds up to 100 inches per second for improved traffic control and environmental control.
Counterweighted operation increases door opening speeds and reduces motor wear, increasing the life of the door.
Intuitive and Customizable Pathwatch® Safety Light System provides advanced warning to vehicle drivers and pedestrians.
Dual thru-beam photo eyes detect movement close to the door and will reverse to the open position.
A sensitivity-adjustable pneumatic reversing edge reverses door if anything comes in contact with it.
Ry-Wi® Wireless System eliminates coil cords and provides two-way communication between control box and bottom bar.
2-ply door panel
Self-supporting steel side frames
Full-height vinyl seals
Extruded aluminum break-away bottom bar
Dual-chamber pneumatic reversing edge
Edge-to-edge seal at top of door
Low-temperature hypalon loop seal on bottom bar
Tec-Light™ defrost system
3-Ply door panel
Tec-Lights with unheated blower or heated blower defrost systems

See the Turbo-Seal® Freezer Door in Action
The Ultimate High-Speed Rolling Door for Freezers and Coolers
Product Sheets
Manuals
Drawings
Architect Resources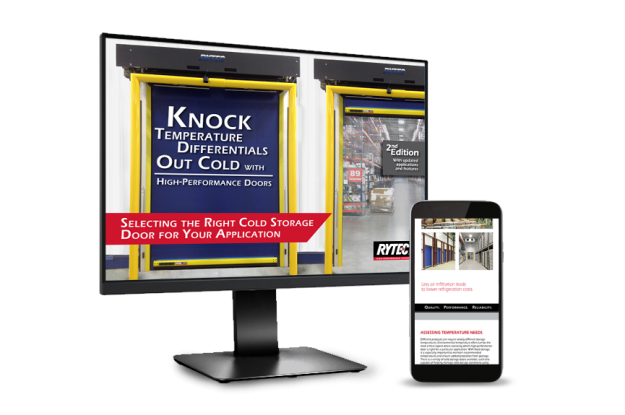 Selecting the Right Cold Storage Door
Download our newly updated 2nd edition FREE Guide: Knock Temperature Differentials Out Cold – with High Performance Doors. You Will Learn the How and Why of: