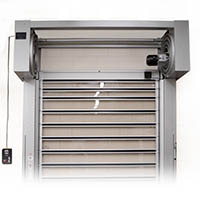 Pre-Wired Door with MS4 Controller
Jackson, WI – Rytec Corporation has announced its Spiral® Pre-Wired Premium Package is now available for most Spiral high-performance doors. This high quality, factory-tested, pre-assembled door option is yet another enhancement of the innovative, market-leading Spiral door. Along with exclusive Spiral technology the Pre-Wired Premium Package adds out-of-the-box functionality and includes a 3- year electrical component warranty.
For architects, contractors, installers, dealers and customers,
this means even better value and aesthetic appeal.
Pre-wired on-board electrical wiring requires only minimal connections and preparation to complete the installation process in less time. In fact, simplified connections may reduce onsite electrical time by over 90% – without requiring access to the overhead System 4® Controller. This reduces operational disruptions and is great news for both installers and customers. In addition, the compact MS4 Remote Controller/Display and minimized conduit provide a cleaner appearance and increased mounting flexibility.
The Exclusive Spiral Pre-Wired Premium Package is just another reason customers turn to Rytec for innovative solutions and industry-leading products.
View the Spiral Pre-Wired Premium Package (PDF)