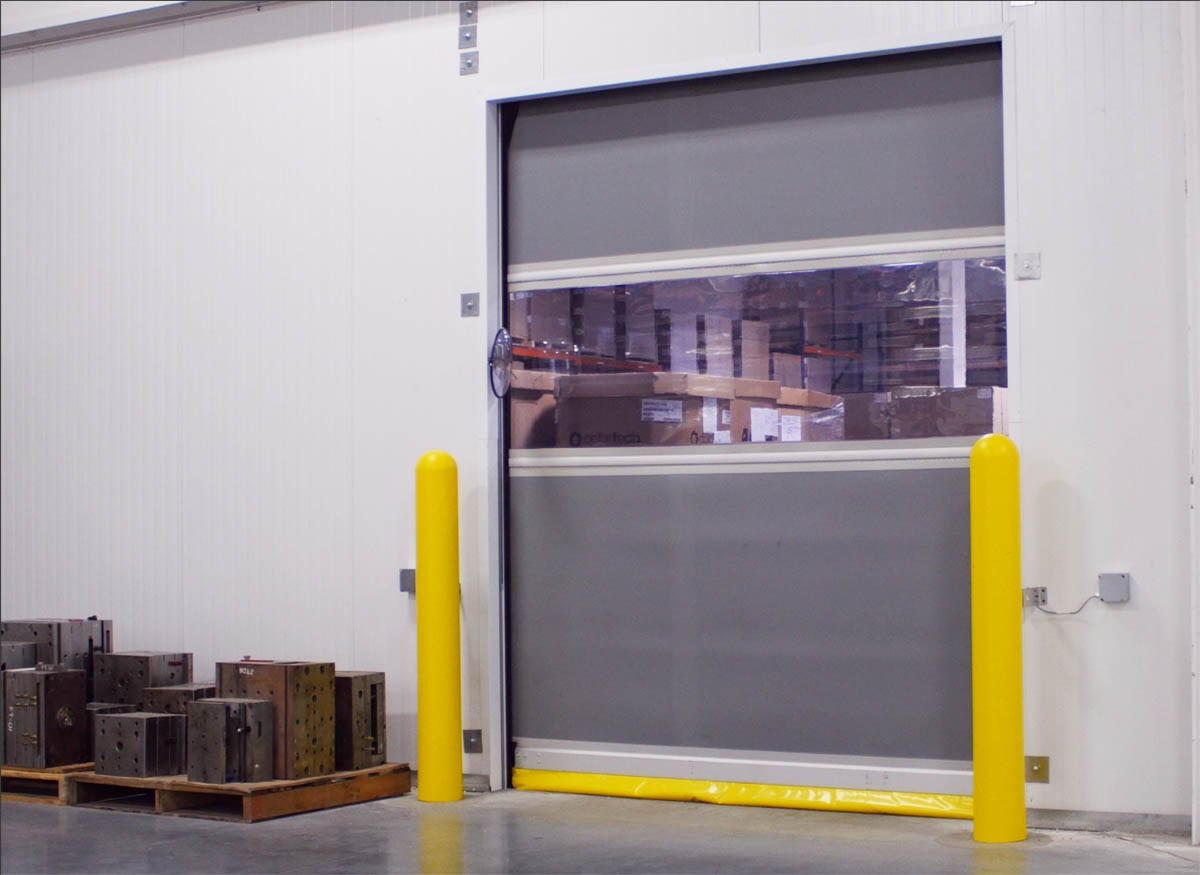 When selecting a door for a manufacturing warehouse, several important factors to consider include logistics, cost, ease of use, durability and longevity. Quality, performance and reliability are also required to maintain efficient, round-the-clock operations.
High-speed fabric doors can help warehouses increase productivity, reduce energy costs and improve safety and traffic flow compared to older sectional doors or less reliable fabric doors.
Indoor and outdoor use – These doors can be used in both internal and external applications. For external use, they can be equipped with ribs or bars for additional wind resistance.
Fast speeds – Opening speeds up to 100 inches per second help manufacturers keep raw materials, components and finished products moving – fast.
Self-repairing – Most manufacturing environments use forklifts and other vehicles. In the event of a vehicle-door collision, high-performance doors equipped with quick-repair features make it possible to have doors back in action in a matter of minutes.
Control the environment – High-speed doors reduce air exchange between comfort-controlled interior environments and the weather outside.
Highly reliable – Reliable, high-performance doors are engineered to withstand the daily rigors of use for millions of operating cycles.
Four options for superior productivity
Start the new year off right by exploring these options for high-speed fabric doors.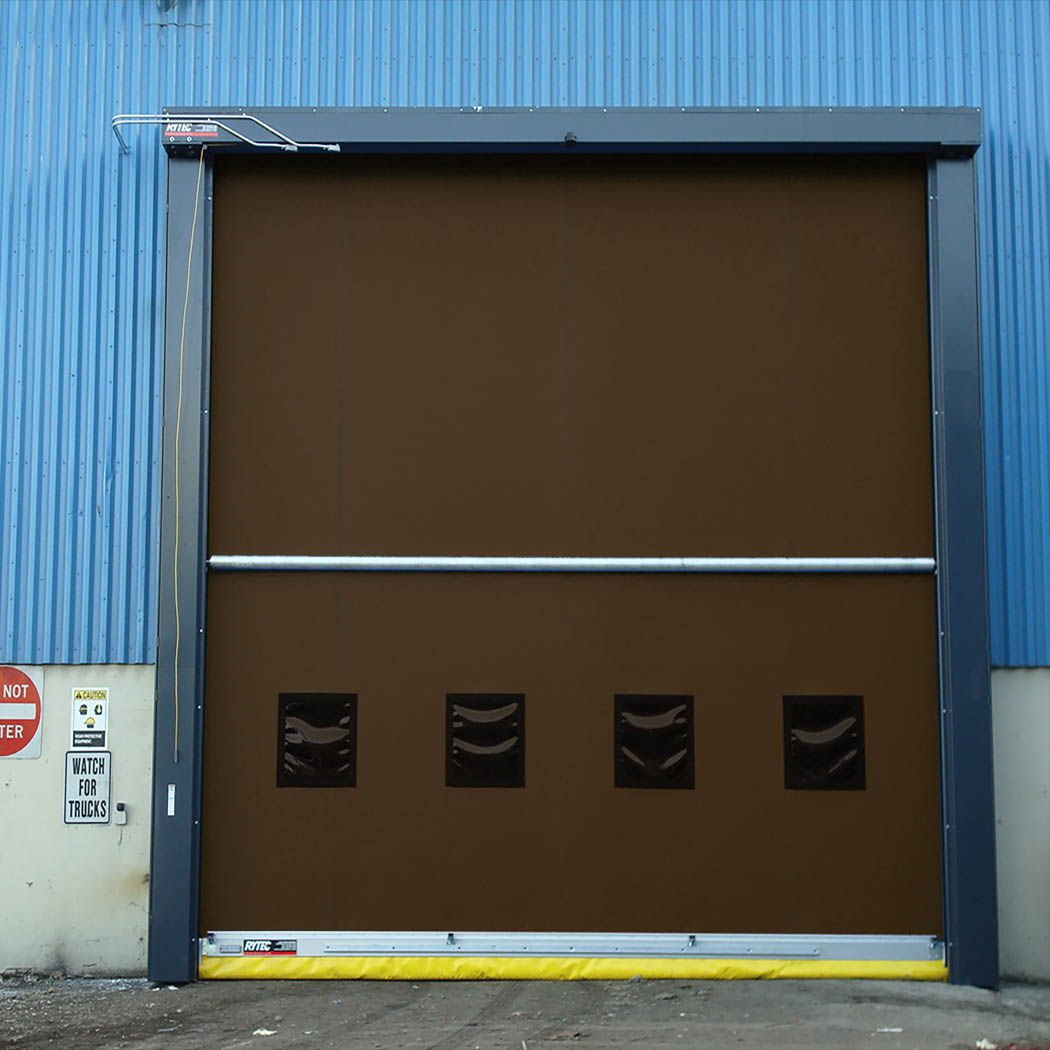 Fast-Seal® The Door That Revolutionized the Industry
The Fast-Seal® door is the first high-speed industrial door that can take a hit without suffering damage. The Break-Away™ bottom bar, along with the patented System II™ counterbalance and tension system, are why the Fast-Seal remains unmatched in the commercial roll-up door industry today. Its dependability and durability keep the Fast-Seal moving and operations flowing with little downtime or maintenance needed.
This door is built to withstand wind pressure using the System II independent counterbalance and tensioning system.
The patented Break-Away™ bottom bar can be reset in just seconds, without tools.
Its AC drive and counterbalanced door design allow for greater operating speeds, up to 50 inches per second.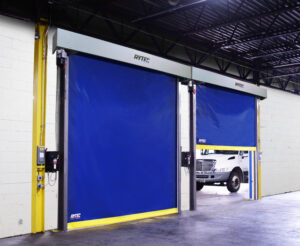 FlexTec® Soft-Edge Door
FlexTec® is Rytec's flexible-edge door that features advanced technology plus the industry's longest mechanical warranty available – assuring unmatched day-in, day-out durability. The soft edge virtually eliminates entrapment concerns, ensuring extra protection for all types of traffic.
This door is engineered to flex around obstructions and easily release from side columns.
It automatically self-repairs without user intervention if impacted from either direction.
Its opening speed of up to 100 inches per second reduces the risk of impact.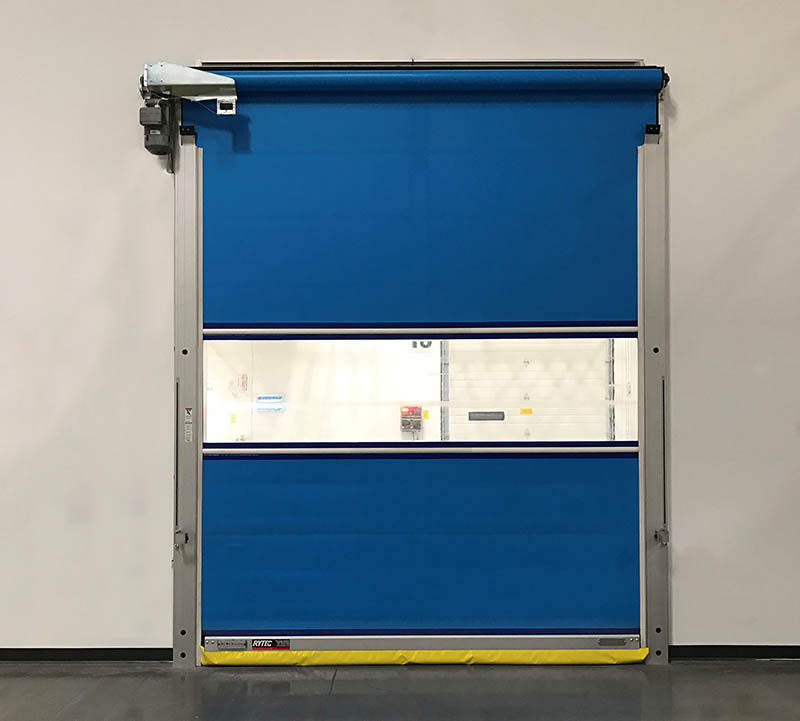 PredaDoor® NXT®: America's Leading High-Speed Fabric Door
The PredaDoor® NXT® has next-generation features, including a tight perimeter seal, advanced wireless safety system and durable components, which provide unsurpassed performance and reliability. The NXT® Quick-Set™ repair system and System 4® door controller minimize door downtime. It's an ideal door for interior and exterior applications where speed, low maintenance and dependability are critical.
Its simple design means there are a limited number of wear parts. It requires minimal maintenance or repair for the life of the door.
Fast opening speeds of up to 50 inches per second improve traffic flow, productivity and energy conservation.
NXT Quick-Set repair allows the door to be easily reset without tools.
Its variable AC drive and intelligent controller reduce wear on door parts and control power consumption.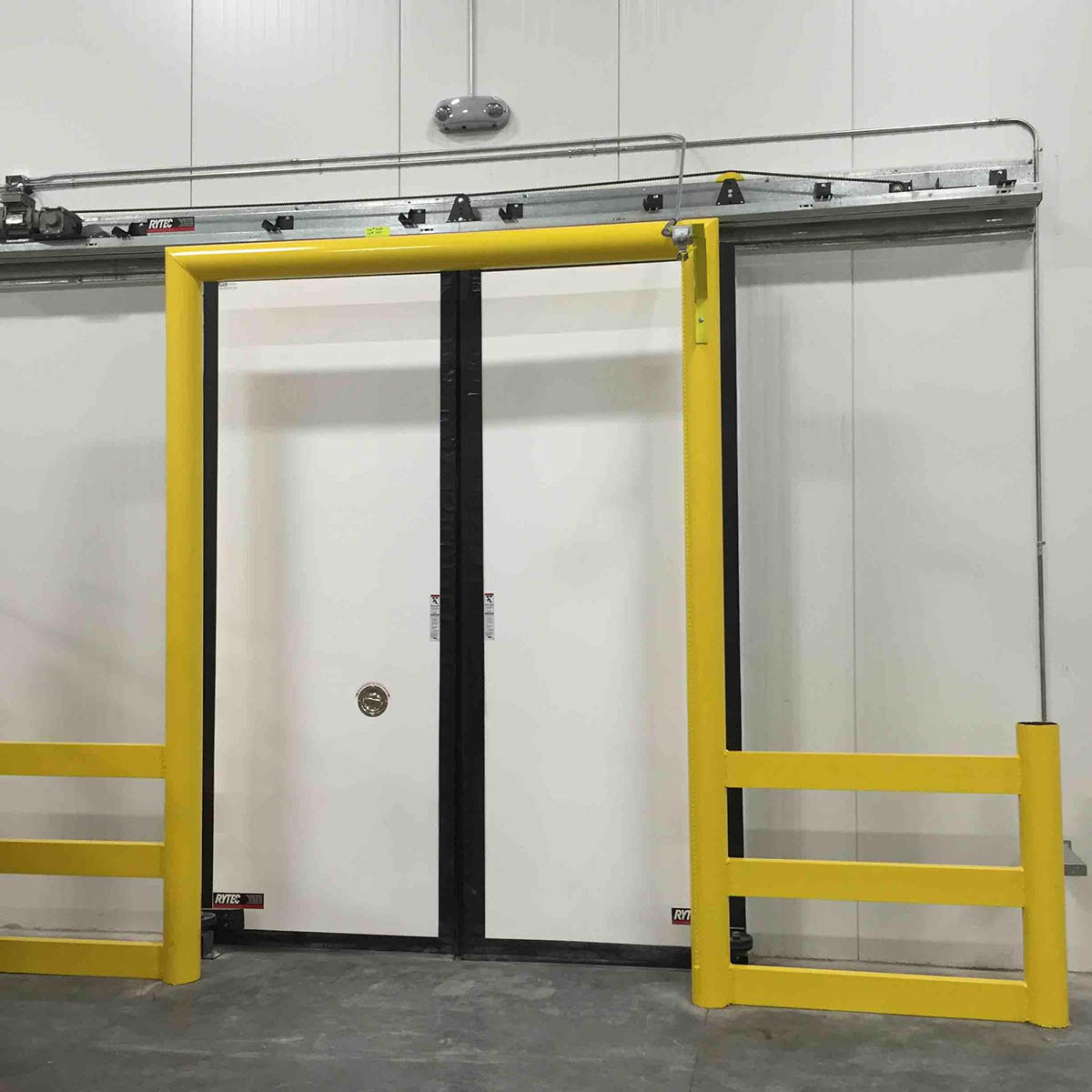 The Turbo-Slide High Performance Door: Ideal for Freezer Environments
The design of the Turbo-Slide® freezer door provides advanced thermal features to endure the rigorous demands of freezer environments. Available in both single and bi-parting sliding options it's ideal for high-cycle applications where increased productivity and energy efficiency are top priorities. Proprietary Flex-Panel® technology and fully closed-cell EVA foam construction delivers R-values ranging from R-17 up to R-40.
Using state-of-the-art technology, door panels are up to 50% lighter than conventional sliding door panels.
Opening speeds of up to 125 inches per second provide nearly instant access to the full height of the door opening.
Full perimeter seal secures the thermal envelope and provides a tight seal on all edges.
Available in single slide and bi-parting models.
Rytec high-performance doors help increase productivity, reduce energy costs, and improve traffic flow and safety in manufacturing warehouses. Contact us today to discuss your high-speed door needs this year.
Learn more about Rytec High-Performance doors for warehouses here.