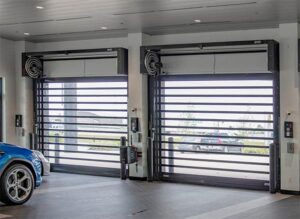 In your auto dealership, first impressions are essential. Customizing your high-performance doors with safety and aesthetic options can improve your dealership's look and functionality to "wow" your customers during every visit.
Best of all, these options are available on Rytec's industry-leading Spiral® FV® doors, the standard for high-performance auto dealership doors.
Stylish Design Options
High-performance doors combine high-tech design with stylish options that help enhance the overall branding of your facility, including:
Color matching – The Spiral® FV® Classic door offers RAL and custom color match powder-coated finishes, allowing you to match your doors to the color scheme of your building.
Large graphics – Rytec high-performance doors can be enhanced with large-scale graphics to promote your business and increase brand awareness.
Safety Enhancements
Rytec offers a variety of options to help enhance the safety of your service and delivery areas.
SmartSurround™ Advanced Detection & Alert System – By combining intelligent optical light curtains and high‐intensity LED signaling lights, this advanced detection system offers unparalleled awareness, detection, warning and signaling capabilities for enhanced safety.
Advanced3 Light Curtain Safety System – This intelligent signal processing system provides continuous monitoring for improved door performance and longevity. Mounted in the door's travel path, it registers activity up to a height of 6 feet 6 inches from the threshold to provide the most complete coverage. The System 4® Controller and light curtains are in constant communication, providing advanced operation and diagnostic information.
Pathwatch® Safety Light Systems – Rytec's Pathwatch® and Pathwatch II® systems are intuitive and customizable safety communication technologies designed to increase threshold safety. Unlike conventional warning lights, the Pathwatch® systems attract attention from nearly any angle or direction of travel — exactly when and where it's most critical.
Dual thru-beam photo eyes – This technology detects movement close to the door and reverses the door to the open position.
Electric reversing edge – The Ry-Wi® Wireless System provides two-way safety communication between the System 4® controller and the bottom bar of the door to enhance safety at door thresholds.
Energy Savings
High-performance doors open and close quickly to keep interior environments comfortable, especially during the hot summer months. You can also add energy-saving options to further improve the comfort and energy efficiency of your dealership.
Tinted panels – Spiral® FV® doors are made with 9-inch, aluminum-framed vision slats, protected by shatter-proof and scratch-resistant Lexan™ polycarbonate. They come in translucent bronze or grey tint to significantly reduce the amount of light and heat transmitted into the building.
Ventilated panels – These panels help increase airflow to maximize fresh air while reducing air pollutants, odors and the potential for mold growth.
Contact us today to discuss your service and delivery department door needs.