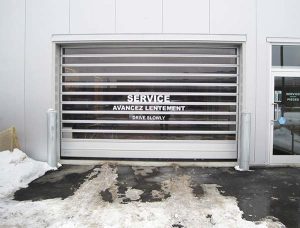 Winter in northern climates can be full of surprises – like waking up to discover that your area was hit by an ice storm overnight. Or discovering that the storm that was supposed to produce only four inches of snow dropped a foot of the white stuff.
Winter is not a good time to discover problems with your auto dealership's high-performance doors. In the coming months, as crisp fall weather signals the approach of winter, it's time to make sure your doors are ready for the brutal winter months ahead.
High-performance doors provide superior protection against the elements, especially during the winter. As cold weather approaches, here's what you can do to ensure your auto dealership's doors are in excellent condition.
Fast Cycle Times
High-performance doors open and close quickly, reducing air exchange between comfort-controlled service and delivery areas and the cold weather outside.
Recommended actions: Before cold weather arrives, make sure your door motors are in excellent working condition. Run each door through several open and close cycles. Listen for unusual noises such as grinding, whining or excessive motor noise.
Check all door mounting hardware to ensure all nuts, bolts, set screws and anchors are tight. Examples include motor mounting hardware, anchor or through-wall bolts, bearing block and mounting hardware.
The motor gearbox is filled with synthetic oil, which does not need to be changed but should be checked regularly for proper oil level. The level can be checked at the plug located on the lower section of the gearbox. Properly lubricated components will last longer, especially during the cold winter months!
Tight Seals
High-performance doors are designed with specially-designed seals on the sides and bottom that form a tight enclosure when the door is closed. They help minimize air ingress from the outside for a more comfortable environment inside the building.
Integral weather seals also help reduce energy loss. That means your dealership's heating system doesn't have to work as hard to maintain a constant, comfortable temperature in your service and delivery areas. That saves you money!
Recommended action: Door seals are one of the most important barriers to cold air entering your auto dealership. When you're testing your doors, check to make sure they close quickly and fully to prevent cold air from seeping around them.
Inspect the sides and bottom edges of your doors for any damaged or missing seals and replace or repair them as needed.
Safety Systems
Like the mechanical parts of high-performance doors, their electronic safety systems can also be affected by cold weather.
Many high-performance doors incorporate a reversing edge, which changes the door's direction when it encounters an obstacle.
They also offer optional safety systems, such as the new Rytec SmartSurround™ system. It automatically detects vehicles or people in or near the door threshold and can be programmed to provide customized visual and optional sound warnings to help prevent accidents.
Recommended actions: While the door is running through a down cycle, tap the bottom of the reversing edge. If it's operating properly, the door will immediately reverse and return to the fully open position.
Test the safety systems of your high-performance doors by placing an object in the area it scans for obstructions. Make sure it detects the object and triggers the appropriate visual and/or audio alerts.
Be Prepared for Cold Weather
If your dealership or service center still uses older sectional or panel doors, it's time for an upgrade. Contact us today to discuss your needs.