Rytec has contributed over 35 years of high-performance door innovation to the cold storage and food and beverage industries. Its consistent focus on improving door performance, reliability, durability and safety has made it a leading choice for cold storage and food and beverage production operations.
Here's a summary of our most important door innovations and their implications for these industries: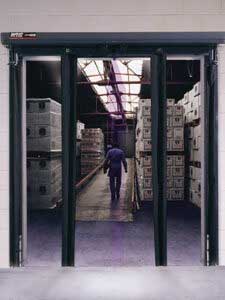 1986: The Fast-Fold® door
The pneumatically-operated Fast-Fold® and Fast-Fold Freezer® doors were launched as economical alternatives to impact doors and strip curtains to meet the growing needs of cooler and freezer applications. These doors now have been retired while a pneumatically-operated model is still offered today. It runs on shop air and offers full-height visibility on both sides of the door opening. Full-height, overlapping PVC panels create a tight seal and reduce energy loss.
An opening speed of up to 72 inches per second improves traffic flow and reduces the chance of vehicle-door impacts. The doors are actuated by a pair of pneumatic cylinders located in the door head and are designed to provide years of trouble-free service.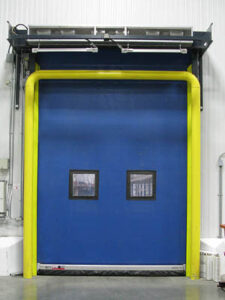 1995: Turbo-Seal®  door
The Turbo-Seal®  door was designed for highly-demanding cold storage environments. Insulated Rylon™ door panels (with an insulated value of R-4) and seals around the door perimeter provided high thermal efficiency, while fast opening and closing speeds minimized energy loss.
The Turbo-Seal®  door introduced the self-repairing, breakaway design that now has become the industry standard. In the event of a door-vehicle collision, the door panel could be returned to its tracks in full operating condition within a matter of seconds. Its flexible bottom edge was designed to help prevent entrapment and automatically reverse if anything came in contact with it.
The original Turbo-Seal® door design was recently retired; however, the Turbo-Seal® Freezer door – introduced in 2010 – continues to be offered today.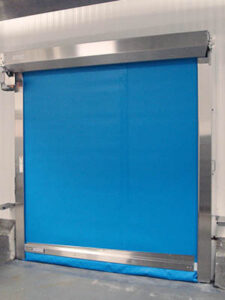 1998: Clean-Roll® door
The Clean-Roll® was the first USDA-compliant door in North America. It's still the only UL-listed high-speed door that's designed to meet USDA, FDA, NSF and ISO standards. Its innovative stainless-steel design virtually eliminates places in which germs can grow and enables complete washdowns. A sloped gutter system on its bottom bar prevents liquid contaminants from dripping into the traffic pathway, for improved product integrity and safety.
Door opening and closing speeds of up to 50 inches per second help meat, poultry, dairy and seafood processing facilities maintain safe, controlled environments.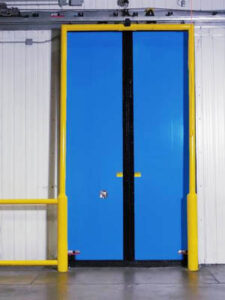 2001: Turbo-Slide® door
Introduced as Arctec® – and re-launched later as Turbo-Slide® with new next-generation features – it was the first self-repairing, high-speed insulated sliding door developed for the cold storage industry. It's ideal for this environment, where high productivity and energy efficiency are key customer requirements.
Door opening speeds of up to 125 inches per second provide nearly instant access to the full height of the door opening, which helps busy cold storage facilities maintain maximum productivity. Door panels are up to 50 percent lighter than conventional sliding door panels, yet provide excellent insulating properties (R-17 to R-40). A full perimeter seal helps the Turbo-Slide® to maintain a tight thermal envelope.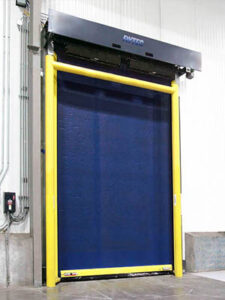 2010: Turbo-Seal® Insulated door
When it was launched, the Turbo-Seal® Insulated was hailed as the world's fastest high-performance door. It offers opening and closing speeds of up to 100 inches per second, reducing air incursion and improving traffic flow in busy cold storage operations.
The Turbo-Seal® Insulated door is equipped with a full perimeter seal to maximize energy efficiency. An optional defrost system and heated side columns virtually eliminate frost build-up.
To help keep material handling equipment and pedestrians safe, the Turbo-Seal® Insulated is equipped with Rytec's innovative and customizable Pathwatch® Safety Light System.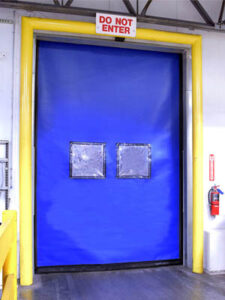 2019: Flex-Tec® door
The FlexTec® soft-edge fabric door features advanced technology plus the industry's longest mechanical warranty. It incorporates a completely new drive system for improved reliability plus a flexible bottom edge that virtually eliminates entrapment concerns and provides extra protection for all types of traffic.
The FlexTec® door opens and closes at up to 100 inches per second, reducing the likelihood of a vehicle-door collision. If it does happen, the door panel easily releases from the side columns to prevent damage. It automatically self-repairs in less than a minute without user intervention.
For added safety, the Advanced3 Light Curtain Safety System® continuously monitors the door opening for obstructions, while the Pathwatch® Safety Light System warns vehicle drivers and pedestrians of door movement.
View all Rytec's innovative high-performance doors for cold storage and food and beverage applications.