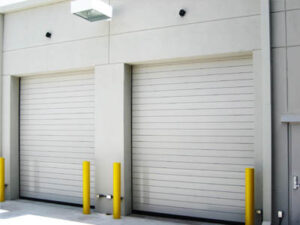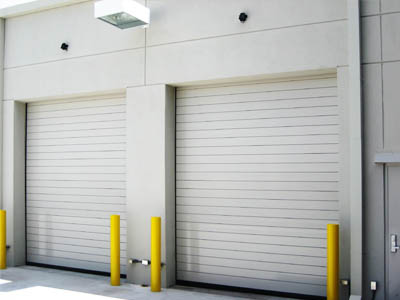 When a hurricane hits, your building's doors must withstand tremendous pressure from high winds and wind-borne debris. Even a small opening can make the difference between a building surviving and being heavily damaged by roof or wall failures.
Are your commercial building's doors strong enough to withstand some of nature's worst weather conditions?
Wind is the number one source of damage during hurricanes. As the wind speed increases, the pressure on doors multiplies dramatically. A 50-mph wind pushes on a window or door with about 5 to 7 pounds of force per square foot. Doubling the wind speed to 100-mph wind increases that pressure by four to five times (20-28 pounds per square foot). A 130-mph wind almost doubles the pressure again, to an estimated 34 to 47 pounds per square foot. That means a 16 x 20 ft. commercial roll-up door must be able to withstand over 15,000 pounds of pressure at a wind speed of 130 mph!
The doors of a commercial building are its first line of defense against wind damage. Hurricane-force winds drive their way into any openings in a building's exterior, causing increased pressure that can lead to roof collapse. High winds can cause ordinary doors to buckle, bow or become misaligned with their tracks, enabling wind and water to penetrate the building.
How Hurricane-Rated Doors Can Help
Heavy-Duty Construction. Rytec hurricane-strength doors offer durable construction to withstand heavy weather during hurricanes, protecting your building and assets. They can resist winds up to 175 miles per hour and impacts from wind-borne debris. They feature double-walled, insulated 6-inch aluminum slats with rubber weather seals and a heavy-duty reinforced hinge system. Durable powder coated steel side frames and head provide added strength to maintain the integrity of the door opening.
Hurricane Rated. Many states along the east coast, such as Florida, have wind and building codes with which businesses must comply. Rytec's Spiral® HZ® (Hurricane Zone) and low-headroom LH® -HZ® doors are the first high-speed, high-performance hurricane-rated doors certified for compliance with Miami-Dade County and/or the Florida Building Code.*
Sealed to Protect Your Building: Hurricane doors have heavy-duty seals that help keep rain and floodwaters out better than standard garage doors or hurricane shutters. They are designed for durability and strength to give your facility reliable protection throughout the year.
Tough But Fast. Despite their heavy-duty construction, the Spiral® HZ® and LH® -HZ® doors open at up to 60 inches per second, helping to keep traffic moving, regardless of weather conditions. Their speed also helps to keep inclement weather outside, where it belongs.
An Elegant Solution. Don't sacrifice functionality for appearance. Unlike overhead sectional doors and hurricane shutters, high-performance hurricane doors are easier to install, offer lower maintenance and provide an upscale look that can be customized to complement any building style.
The Spiral® HZ® and Spiral® LH® -HZ® doors are an ideal choice for automotive dealerships, parking structures, government buildings and other commercial buildings located in hurricane-prone areas along the eastern and southern coasts.
Protect your business with hurricane-strength doors from Rytec. Learn more about our hurricane-rated doors here. Or contact us for more information.
* Miami-Dade County, Florida NOA No. 22-0927.11, 11/8/2027. Florida Product Approval FL# 28502.1