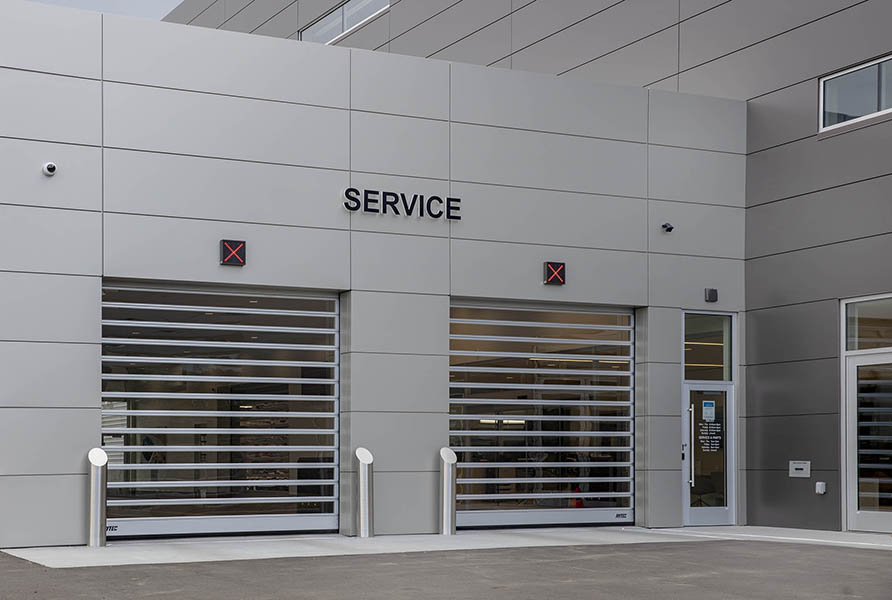 Since its launch in 2004, Rytec's Spiral® FV® has become the preferred high-performance, full-vision door for auto dealerships. Combining elegance and efficiency, its full-width window slats provide extra safety and a high-tech look that gives customers an excellent first impression.
Many of North America's leading auto dealerships rely on the Spiral® FV® to contribute to the upscale branding of their dealerships and help keep their service department operations flowing smoothly.
With opening speeds of up to 100 inches per second, the Spiral® FV® door creates an unmistakable "Wow!" experience for customers. The window slats of this full-vision door enable service managers to see incoming traffic. Also, customers can see if cars are waiting in the service lane on the other side of the door. Because the door opens so quickly, it also reduces or can virtually eliminate the potential for vehicle-door collisions.
The Spiral® FV® can be coordinated with your facility's colors using custom RAL paint colors, enabling you to match any OEM standards or architectural motif.
Energy Savings
The beauty of the Spiral® FV® high-performance door is more than 'skin deep'. It contributes to significant energy savings in regions that experience environmental extremes – from the hot, humid summers of the southeastern U.S. to subzero temperatures and blizzards in the northern states and Canada.
The fast opening and closing speeds of this high-performance door keep inclement weather outside where it belongs and contributes to a comfortable environment for customers, service advisors and technicians alike. It also means your dealership's HVAC system doesn't have to work as hard to maintain a constant temperature in the service area.
The Spiral® FV® door is built with clear aluminum-framed vision slats that contain shatter-proof and scratch-resistant Lexan™ polycarbonate panels. Optional bronze and grey tinted panels also help reduce solar heat build-up. This is especially important in warmer climates, where daytime temperatures can reach as high as 120°F. By reducing heat build-up, they help ensure customer comfort and satisfaction and employee productivity.
Reliability
Dealerships with high-traffic service areas require exceptionally reliable doors. The Spiral® FV® is designed with minimum wear parts, making it much more reliable than older sectional doors. Its patented roll-up design minimizes metal-to-metal contact, reducing wear and tear on key components. Plus, its energy-efficient motor and self-diagnostic controller ensure trouble-free, efficient operation.
Safety and Security
A recent innovation that is now standard equipment on all Rytec Spiral doors is SmartSurround®. This next-generation door safety and security system uses artificial intelligence (AI) and advanced light curtain sensors to accurately sense vehicle and foot traffic nearby, intelligently track its motion, and adjust the door's performance accordingly.
That makes it well-suited to busy auto dealership service areas, where service lanes may become crowded, and vehicles may not always clear the door threshold. Also, pedestrians may occasionally wander into the door area. When that happens, SmartSurround® can signal the door to close at a slower speed and flash a specific pattern on its light strips to signal the person to move away from the door.
In contrast, other door safety and security systems may be able to detect obstructions in or near the doorway but can't tell if they have cleared the door opening. They rely on a simple countdown timer to close the door. As a result, the door may open and close much more often than necessary. That makes it harder to maintain a comfortable environment in the service area and can contribute to higher energy costs and increased door maintenance.
With all of these advantages, it's easy to see why the Spiral® FV® is the number one choice of auto dealerships across North America for new construction and retrofit applications.

Learn more about the Spiral® FV®Spiral® FV® (Full Vision) door and its use in auto dealerships. Or contact us with any questions.