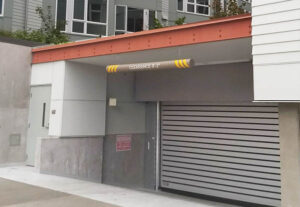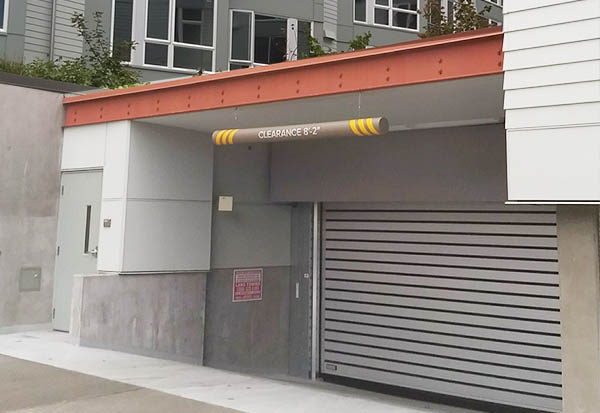 Personal security is more important than ever for tenants living in urban areas. According to a recent Gallup poll, a record-high 56% of Americans said crime is higher where they live than it was a year ago.
Parking structures are a prime location for theft and violent crimes. According to the National Institute of Justice, 7.3% of all violent crimes occur in parking lots, where lighting, sight lines and security are often poor. Data released by the FBI indicates they are the third most likely place people will encounter violent crimes.
Personal safety has become such a big issue that a growing number of city dwellers now consider parking security as one of their key criteria when selecting an apartment.
One way savvy building owners can enhance security, differentiate their properties and successfully attract more tenants is by equipping their parking structures with high-performance doors. Here's why:
Fast open and close speeds: Flimsy grille panels and standard overhead doors can be loud and slow, creating traffic jams at the parking structure door openings, frustrated tenants and can leave a bad impression of the overall parking experience.
In contrast, high-performance doors can open and close up to 100 inches per second. This helps to keep traffic moving smoothly into and out of the parking structure. It also discourages unauthorized visitors from "tailgating" or "piggybacking" – following closely behind a resident's vehicle to sneak into the parking structure before the door closes.
In addition, fast opening and closing speeds also reduce the potential for accidental vehicle-door impacts while adding an impressive "Wow!" factor upon entry to the building.
Rugged construction: Today's modern high-performance doors are ruggedly built to help building owners maintain a secure environment and ensure long-lasting operation. Their tough yet elegant look can be customized to match almost any style of building, while at the same time enhancing tenants' feelings of safety and security.
Reliability: Most parking structures have only one door opening for entry and exit. That means door reliability is a must. Rytec Spiral® series doors utilize a unique spiral track design that ensures no metal-to-metal contact for ultra-quiet operation and dependable performance. The spiral track also guards against wear and tear on the aluminum panel, resulting in minimal maintenance, preserved aesthetics and longer life.
Access control: When paired with enhanced technology for access control, such as
cloud-based mobile apps, wireless key fobs and key cards, high-performance doors can provide building owners with advanced control and monitoring of door users and activity. A web-based monitoring tool that is networked with the door can even alert building owners to suspicious or problematic activity, such as a door being open for a prolonged time.
State-of-the-art security: A recent innovation that is now standard equipment on most Rytec Spiral® high-speed doors is SmartSurround®. This next-generation door detection, alert and security system uses artificial intelligence (AI) and advanced light curtain sensors to accurately sense vehicle and foot traffic nearby, intelligently track its motion and adjust the door's performance in pre-programmed ways. Customizable bright LED lights on either side of the doorway are designed to warn people of door movement and can also deter loitering around the door.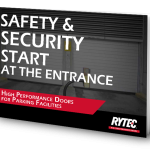 For more details on how Rytec doors can enhance the security of your parking facility, download our new parking Guide, Safety & Security Start at the Entrance.
Get the Guide Now >>
Do you have questions about how high-performance doors can enhance the safety and security of your parking structure? Contact us today to discuss your needs.