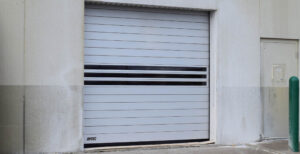 Rytec Corporation (November 2, 2020) – Rytec Corporation, a Jackson, WI-based manufacturer of high-speed industrial doors, has donated a high-performance roll-up door to the Habitat for Humanity ReStore location in Germantown. It was recently installed at no cost to the non-profit organization. (Pictured Russ Wanta and Thecla Harris of Habitat for Humanity, and Andrew Schumacher and Jamie Lilly of Rytec Corporation).
This Rytec Spiral VP® door is part of a new drive-through pickup and drop-off area at the store. Previously, donors had to drop off their donations at the front of the store, creating traffic challenges and potential safety hazards. The new drive-through area encourages the public to donate larger items, such as appliances and furniture, and to donate more frequently.
In addition to improving traffic flow for donations, this door will improve the comfort and safety of volunteers working in the drive-through area. "It opens and closes quickly and provides a secure seal. That means it will keep outdoor weather extremes from affecting the inside environment of the building. That's critical here in Wisconsin, where the seasonal temperature variations can be as large as 120 degrees," explains Rytec Vice President of Marketing Michael Watkins.
The Spiral VP door is part of Rytec's extensive portfolio of high-performance industrial doors. They are used in a variety of industries, including cold storage, food production, factories, pharmaceutical facilities, car dealerships and parking structures throughout North America.
"This donation is consistent with our core values, which include accountability, respect, commitment, integrity and collaboration," Watkins adds. "That includes supporting the communities we serve and the places where our employees live."
Rytec Corporation is headquartered in Jackson, WI and has an additional production facility in Hartford. It has been producing, selling and distributing high-performance doors for over 35 years. There are over 100,000 Rytec doors in use worldwide.
Watch Russ Wanta and Thecla Harris of Habitat for Humanity discuss how the Rytec VP® door installed at the Germantown ReStore location will now help increase efficiency and security and ease traffic flow for customers.