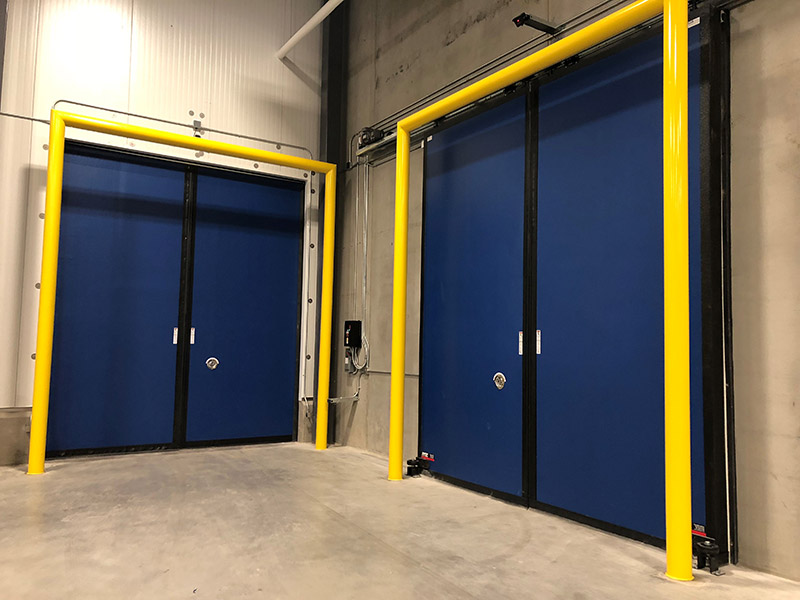 In the cold storage and food processing industries, effective energy management is a must. Doors that open and close slowly or have inadequate seals can cause significant energy losses. As a result, refrigeration systems must work harder to maintain constant temperatures in food preparation and food storage areas, potentially shortening equipment life. In extreme cases, poorly-sealed or inoperable doors can even lead to food spoilage.
How high-performance doors can help
Modern, high-performance doors can help cold storage and food production facilities to maximize their energy efficiency. Here's how:
Energy savings. High-performance doors are manufactured with energy-efficient materials that have a high R-value to help reduce energy consumption and minimize energy loss. Specially designed seals on the sides and bottom form a tight seal when the door is closed.
Reduced refrigeration costs. Less air infiltration leads to lower refrigeration costs; state-of-the-art insulated panels often eliminate the need for conventional defrost systems. That keeps material-handling equipment operating safely through door openings.
Fast opening and closing speeds. High-speed doors reduce temperature and air exchange between controlled environments. They also help these facilities maintain a smooth flow of material handling equipment for maximum productivity.
Additional benefits of high-performance doors
In addition to these energy-saving benefits, high-performance doors can help cold storage and food production facilities in other ways:
Fewer collisions. Vehicles are unlikely to collide with high-performance doors because of their fast open and close speeds. In the unlikely event of a forklift-door collision, many of these doors often can be reset in minutes, minimizing or eliminating downtime.
Safety. High-performance doors offer a full array of safety features – such as breakaway functionality, lighting systems and motion sensors – to provide safeguards for forklift operators and other personnel.
Reliable. High-performance doors are typically made of durable, insulated and puncture-resistant materials for long-lasting performance. This helps cold storage facilities keep up with tight shipment schedules and increasing customer demands.
Low maintenance. Unlike heavily insulated doors, the lightweight panels and roll-up or sliding designs of high-performance doors put less strain on operating parts and require lower-horsepower drives to operate. Modern doors are more reliable and less prone to downtime and maintenance.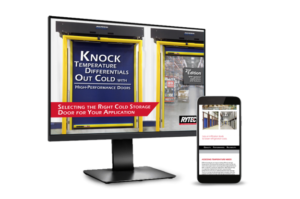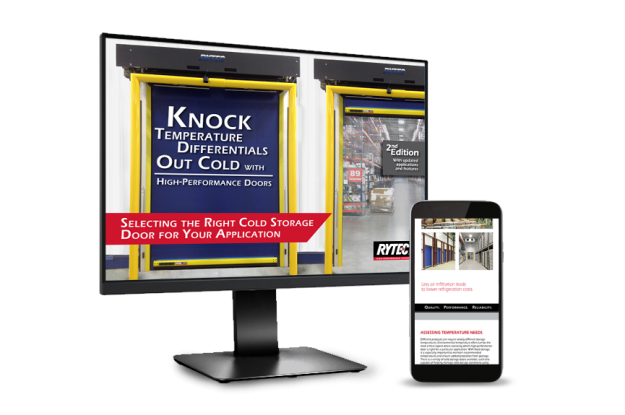 It may be time to upgrade your facility's cold storage doors. Contact us today to discuss your needs, or for even more information download our Guide, Knock Temperature Differentials Out Cold – Selecting the Right Cold Storage Door here.