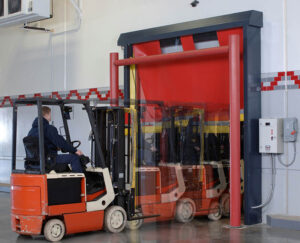 In a busy factory or warehouse, maintaining the smooth movement of raw materials and finished products is critical to efficient operation. One threat to productivity nirvana is vehicle-door collisions.
Re-routing traffic around a damaged door can have a significant impact on productivity because forklifts must be re-directed to alternate door openings. Traffic jams inevitably occur given the increased activity, slowing down overall operations until the door is finally repaired.
High-performance factory and warehouse doors can improve traffic flow and help factories and warehouses maintain optimum productivity. Here's how.
Breakaway action
High-performance fabric doors can open and close quickly – from 50 up to 100 inches per second – but vehicle-door collisions can still happen. A well-designed door can take a hit from a forklift or other equipment and break away to reduce potential damage to the door, warehouse equipment, loads and nearby workers. Instead of absorbing the force of the impact, the door panel lifts out of the door tracks and easily moves out of the way without being damaged.
Some high-performance doors are made of puncture-resistant, polyester multi-filament fabric. This rugged material provides a tight door seal yet is flexible enough to move out of the way in the event of a collision.
Fast, tool-free repairs
After an accidental impact, high-performance doors can be easily restored to normal operation in less than a minute. For example, certain Rytec doors are equipped with Break-Away™ tabs that allow the wireless bottom bar to release in either direction without damaging the door. Cutoff switches automatically shut off the door motor if the bottom bar is impacted.
To reset the door, a worker simply aligns the bottom of the door to the side of the opening where the motor is located. Then, pressing the door activation button, the door quickly restores itself to full operation in seconds, without the need for tools.
This functionality not only helps manufacturing and warehouse facilities to minimize downtime. It also enables forklift operators to assess any damage to their loads immediately at the time of the accident.
Smooth flow of traffic
Versatile and durable high-performance doors provide maximum reliability for numerous interior and exterior applications. Their speed and reliability improve the flow of traffic and help forklift drivers to maintain high productivity throughout their shifts – since they don't have to wait for slower-moving doors to open.
Rytec provides a full portfolio of high-performance doors to increase factory and warehouse productivity, reduce energy costs and improve traffic flow and safety. Click here for our Manufacturing & Warehousing doors. Or contact us today to discuss your high-speed door needs.