In cold storage environments, different products can require quite different storage temperatures. Environmental temperature often can be the most critical aspect when assessing which high-performance door is right for your application.
There are several styles of cold storage doors available, each one capable of helping manage cold storage conditions using speed, sealing efficiency and secure separation. These tips can help you choose the right high-performance door for your cold storage needs.
Above-Freezing Environments
For environments with temperatures above freezing (such as coolers), lighter-weight fabric doors can control temperature and ensure product freshness. These models are designed for high-speed operation and also feature tight-sealing perimeters to protect against air infiltration from nearby ambient environments.
Consider durability: High-speed doors often feature a sturdy, standard fabric material or can be furnished with USDA/FDA-compliant or tear-resistant materials.
Choose efficiency: Some doors incorporate energy-efficient insulation and offer features such as next-generation thermal panels, full-height quad brush seals, full perimeter breaks, and a floor-hugging loop seal to protect against air infiltration.
Measure your space: When you need a full perimeter seal in a tight space, high-speed doors have a lower profile and smaller footprint than traditional doors.
Reduce maintenance: These doors are designed for heavy-duty, high-cycle environments, requiring only minimal maintenance. Some models offer a self-repairing option that automatically resets the door if it is struck. Together, these features help support facilities in keeping the flow of products moving uninterrupted.
Below-Freezing Environments
Protecting goods in temperatures below freezing requires controlling temperatures and minimizing air exchange. High-performance doors offer heavy-duty materials and fast speeds to maximize traffic flow and product quality. Highly insulated panels and tight-sealing perimeters also help maintain temperature consistency.
Prioritize sealing and insulation: Freezer-specific doors are designed to provide the utmost sealing capacity. They offer insulated panel materials, closed-cell foam core and full-perimeter sealing capabilities to maintain cold storage conditions.
Get flexibility without frost: Moving goods between a freezer and other environments is always a cause for concern. High-performance doors are often enhanced with heated side columns and multiple defrost systems to virtually eliminate frost build-up around doorways.
Choose tight seals: Tight seals around the door perimeter also help reduce frost build-up. For example, the Rytec Turbo-Seal® Freezer Door provides minimized air infiltration and improves traffic flow by using high-speed operation and a tight full perimeter seal.
Other Factors to Consider
Automated systems: A growing number of cold storage operations are moving to automated storage and retrieval systems (ASRS) inside cold storage facilities to keep workers comfortable and productive. Specialized high-performance doors help to keep these facilities productive.
Traffic concerns: High-traffic environments require a faster door that can get out of the way quickly and/or which can be reset quickly if it's struck.
Size and clearance: Plan ahead for adequate space for each door type – plus any heater or blower systems – that may be required. In some cases, additional wall space may be required when opting for sliding doors vs. roll-up doors.
Knock Temperature Differentials Out Cold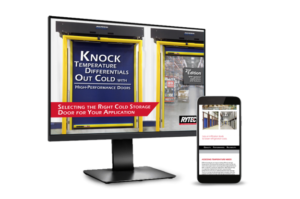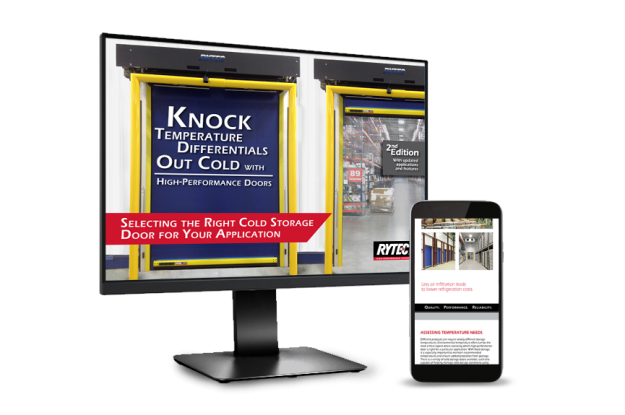 Rytec high-performance doors help increase productivity, reduce energy costs, and improve traffic flow and safety in cold storage facilities. Contact Rytec today to discuss your cold storage door needs or for even more information download our newly updated 2nd edition eBook, Knock Temperature Differentials Out Cold – Selecting the Right Cold Storage Door here.