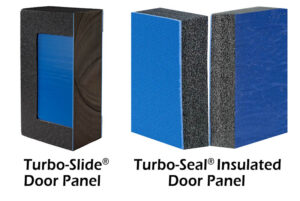 In the world of cold storage doors, the term "R-value" is often used to describe thermal efficiency. Understanding R-value is critical in the cold storage industry, where minimizing heat loss is a must.
So, what exactly is R-value and what does it mean?
The Definition of R-Value
R-value is a term that was originally developed for measuring the thermal performance of insulation. Today, its use has spread to include the thermal efficiency of any building material. Materials with higher R-values provide better insulation and can resist heat more than materials with lower R-values.
So, for example, inefficient doors tend to have low R-values such as R-1, while more energy-efficient doors have R-values such as R-40.
High-Performance Doors for Cold Storage
Because food integrity is critical, cold storage facilities focus on doors that are thermally efficient. Traditionally, they have been heavy, well-insulated doors. However, they open and close slowly, causing warm air to enter cold storage environments.
High-performance doors not only open and close quickly to minimize air exchange, but they also include options that provide excellent thermal resistance, as well as high R-values to maximize performance in cold storage facilities.
Many of today's high-performance doors are constructed with materials that have sufficient R-value to make defrosting unnecessary. They combine fast cycling with high-efficiency insulation and tight seals to keep out the cold. They also resist damage and have low maintenance and operation costs. With these technologies, cold storage facilities can reduce long-term energy costs, improve energy efficiency and provide a safe environment for their workers.
Keep Traffic Moving. Versatile and durable high-performance doors open and close quickly, but safely, to reduce the likelihood of vehicle-door collisions. This ensures that forklifts, pallet jacks and other vehicular traffic have a safe yet fast method of moving through the facility. This is especially important in new high-capacity cold storage facilities, which utilize tall doors and are serviced by high-mast forklifts.
Eliminate Downtime. When a forklift hits a door panel, Rytec's Quick-Set™ Break-Away™ tabs allow the bottom bar to separate from the side columns undamaged. Plus, the door can be reset without tools in seconds, virtually eliminating door downtime.
Minimize Repairs. After an accidental impact, Rytec's Quick-Set™ repair system allows the bottom bar to release in either direction. After impact, the self-repair system is engaged. In seconds, the door is restored and fully operational – without tools. This minimizes downtime so your warehouse can maintain a smooth flow of vehicles carrying raw materials and finished products.
Reduce Maintenance. When it comes to routine maintenance, Rytec doors' advanced design System 4® controller enables adjustments to door operation to be made at floor level. This ingenious system offers total digital control and self-diagnostics to minimize maintenance surprises.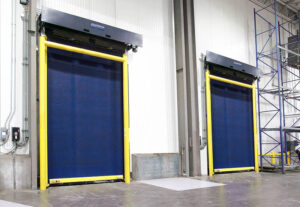 Turbo-Seal® Insulated Door
Ideally, a cold storage door needs to balance excellent insulating capability (a high R-value), weight and speed. Rytec's Turbo-Seal® Insulated door gets this balance just right. Its design minimizes heat incursion into refrigerated areas but is light enough that the door can open and close quickly – up to 182 inches per second.
Unmatched reliability and lasting performance are delivered on the proven Turbo-Seal® platform, engineered to withstand the rigors of a freezer environment while providing operational and energy efficiency.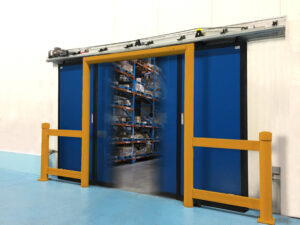 The Turbo-Slide® High-Performance Door
The design of the Turbo-Slide® door provides advanced thermal features to endure the rigorous demands of cooler and freezer environments. Available in both single and bi-parting sliding options, it's ideal for high-cycle applications where increased productivity and energy efficiency are top priorities. Proprietary Flex-Panel® technology and fully closed-cell EVA foam construction delivers R-values ranging from R-17 up to R-40.
Using state-of-the-art technology, the door panels of Turbo-Slide® doors are up to 50% lighter than conventional sliding door panels. Opening speeds of up to 125 inches per second provide nearly instant access to the full height of the door opening. In addition, full perimeter seal secures the thermal envelope and provides a tight seal on all edges.
Rytec high-performance doors help increase productivity, reduce energy costs and improve traffic flow and safety in cold storage facilities. Contact Rytec today to discuss your high-speed door needs.
Learn more about Rytec high-performance doors for cold storage here.