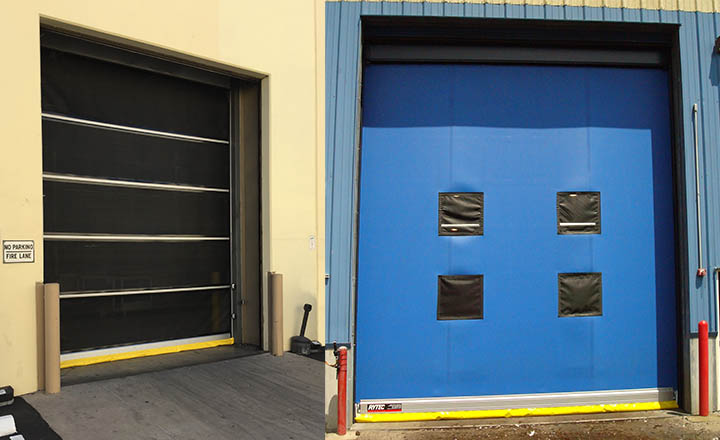 In any manufacturing facility, quality, performance and reliability are crucial attributes for overhead doors. That's where high-performance doors can make an especially big impact. They can increase productivity, reduce energy costs and improve both traffic flow and safety. Many also feature the latest advanced options that traditional doors can't offer.
High-Performance Door Options for Manufacturing Warehouses
In addition to fast opening speeds and unmatched reliability, high-performance doors offer many features that keep your manufacturing operations flowing day in and day out.
Withstand High Wind Pressures. Unlike traditional overhead doors that can be damaged in demanding environments, high-performance doors can withstand extreme weather. For example, the Fast-Seal® door from Rytec® was the first high-speed industrial door that could take a hit without suffering damage, thanks to its Break-Away™ bottom bar and patented System II™ counterbalance and tension system.
The Fast-Seal's® puncture-resistant, vertically flexible and laterally stiff 3-ply Rylon™ panel helps it remain in the door guides when exposed to wind or pressure differentials. The dependability and durability of this high-performance door keeps manufacturing operations moving smoothly with little downtime or maintenance needed.
Engineered to Withstand a Hurricane. Unlike traditional overhead doors, hurricane zone doors are specially designed to help keep rain and floodwaters out better than standard overhead doors. Built for durability and strength, these high-performance doors outlast standard sectional doors and give your property and belongings long-term protection, during and after hurricane season.
Able to withstand winds up to 175 miles per hour and small projectile impacts, Rytec's hurricane zone doors, Spiral® HZ® and Spiral® LH-HZ, are built to last – even in extreme environments. With heavy-duty reinforced hinges and aluminum slats, these doors can withstand hurricane-force wind loads and projectile damage.
Keep Out Pests. High-speed doors offer screened or perforated door panels to improve ventilation while maintaining safety and security. Roll-up screen dock doors, sometimes referred to as "bug doors," provide airflow and comfort while preventing pests, insects and other unwanted contaminants from entering the building.
Accommodate Large Openings. Some high-performance doors are specially designed to fit oversized openings. For example, Rytec's FlexTec™-T model accommodates openings up to 20 feet high, with a soft bottom edge that virtually eliminates entrapment concerns. Extra protection is ensured for all types of traffic – safeguarding environments and ensuring uninterrupted operations.
Integrated Advanced Technology. Many high-performance doors can be outfitted with the latest, state-of-the-art wireless features that further improve safety and performance. They include technologies that are designed to increase door threshold safety, continuous monitoring for improved door performance and longevity, door controllers to improve safety, and wireless communication between door controllers and doors.
Is it time to upgrade the doors in your manufacturing facility? Contact us today to discuss your high-performance door needs.
Learn more about Rytec High-Performance doors for warehouses here.