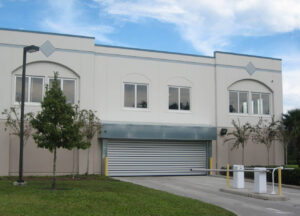 When seconds count and lives may be on the line, a slow-moving overhead door can delay the fast response of emergency vehicles. High-performance doors enable police squads, ambulances and fire engines to get on the road faster to respond to emergencies – and save lives. 
The same is true for government operations, where traditional overhead doors can impede smooth-moving operations in everything from parking structures to distribution and warehousing applications. In these environments, high-performance doors can help maintain smooth operations for government and municipalities.
High-Performance Doors for Emergency Services
Faster response times. Featuring unrivaled speed and reliability, Rytec® high-speed EMS and fire station doors open quickly to help ensure fast response time and increase the odds that first responders can save lives and property. Rytec Spiral® doors open at speeds up to 100 inches per second, ensuring fast vehicle exits from facility bays and speedy response times.
The fast opening and closing speeds of these doors also reduce the chances of them being hit by a vehicle entering or exiting the building. This reduces downtime and costly damage to the door – as well as to expensive emergency equipment and vehicles.
24/7/365 reliability. Built to last over millions of opening cycles, Rytec's high-performance doors are engineered for high-traffic, high-cycle environments like fire stations and EMS facilities for reliable day in, day out use.
Built for performance. Rytec's Spiral® series doors offer a unique spiral track design that ensures no metal-to-metal contact for ultra-quiet operation. This also guards against wear and tear on the aluminum panel, resulting in minimal maintenance, preserved aesthetics, longer life and lower operating costs compared to conventional doors.
See how one fire department installed Spiral® doors so it could better serve one of the most active military bases in the United States.
Rytec Emergency Response Case Study: Fort Gordon Fire Department
Enhancing Government Operations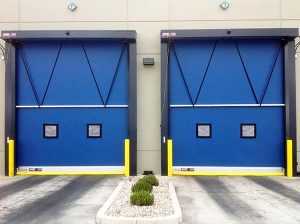 Efficient warehouse operations. The ability to store and move products quickly and efficiently is required for an effective government warehousing operation. The fast, dependable operation of Rytec's high-performance doors helps these facilities to maintain efficient operations.
Increased parking security. High-speed, high-cycle door operation ensures increased safety for government parking facilities. Rytec's parking doors feature rigid aluminum slat construction for strength, security and durability. Optional perforated slats improve airflow without comprising security.
When you need speed and reliability in high-pressure situations, you need Rytec high-performance doors. Contact us today for more information on how a Rytec door can benefit government operations, as well as fire stations, police garages and emergency response services.