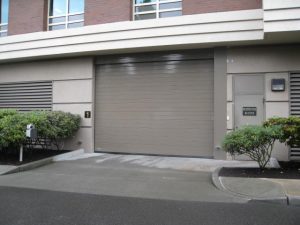 Attention architects! When you're specifying overhead doors for new buildings, from parking garages to warehouses, it's important to know your options.
Although they've been a popular choice for decades, conventional doors can be slow and expensive to maintain. They often use parts that wear quickly and require a great deal of costly and time-consuming maintenance. That can include everything from replacing worn-out components to realigning the tracks and rollers – all of which adds up to more downtime and less productivity – as well as a dated appearance.
In contrast, high-performance doors deliver a wide variety of benefits, including:
Fast opening and closing speeds
Enhanced energy efficiency
Less maintenance
Many design options
High-end, modern aesthetics
Fewer parts that wear out
High reliability, even in high-cycle environments
Less downtime
Lower cost of operation
High-Performance Door Options
Here's what architects should consider when specifying high-performance doors for different applications.
Spiral® Doors
These roll-up doors offer high-speed operation for high-traffic situations, with crisp lines that give them a stylish look. Their rigid aluminum slat construction eliminates the need for a second security door, giving them the reputation as the most secure coiling overhead door option.
Specify Spiral® high-performance doors when:
Security matters. Examples include parking structures and auto dealerships.
Aesthetics are important. Examples include high-end condos, apartments and mixed-use buildings.
You need window slats for a full view that doesn't sacrifice security.
You need to meet low headroom requirements for older parking garages and commercial structures.
Energy efficiency is a must. The fast opening and closing speeds of these doors minimize air incursion and energy loss.
Fabric Doors
These are a lower-cost option to Spiral® doors, which makes them the preferred choice for loading docks and other areas with high traffic volume. Many of these durable doors are designed to withstand impacts from forklifts and other vehicles and can be repaired quickly.
They can also be used in the interior of buildings. An excellent example is cold storage facilities, where they are often used to separate refrigerated areas from unrefrigerated warehouse space.
Rytec fabric doors include:
The FlexTec® flexible fabric door, which features a soft edge with self-repairing features that virtually eliminate entrapment concerns and protect traffic to safeguard environments and ensure continuous operations.
The Bantam® roll-up door is an economical alternative for high-maintenance loading dock doors. It's ideal for interior or exterior industrial applications with low to moderate traffic.
The PredaDoor® NXT offers unsurpassed performance and reliability. That makes it ideal for interior and exterior applications where speed, low maintenance and dependability are critical.
Rytec sales professionals are ready to answer your questions about the design and build specifications for high-performance doors. Contact us today to learn more about how to properly specify high-performance doors for your building projects.
Sign up here to receive future articles about industries that use high-performance doors.