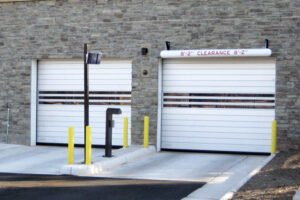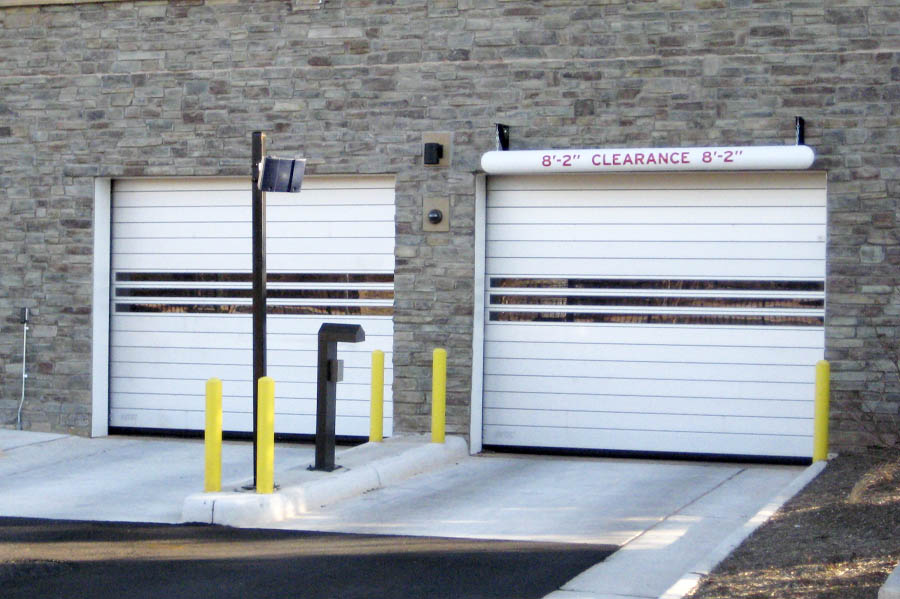 When architects are designing new parking structures today, a frequent concern is future-proofing them to accommodate what's next – using sustainable designs and materials, incorporating charging stations for electric vehicles and incorporating systems for counting and displaying the number and location of vacant parking spots, for example.
But one part of facility design that often gets overlooked is the doors. Entry to the modern parking structure can be the first step in a positive user experience. Ideally, it should provide parkers and residents with a trouble-free experience, day in and day out.
Architect Future-Proofing Requirements
When it comes to high-performance doors for parking structures, what do architects, property owners and managers look for that will meet the needs of today's and tomorrow's users?
Aesthetics: Ideally, the doors should be customizable to fit the architectural motif of the building or parking structure. They should provide an aesthetically-pleasing presence that enhances it. Even though they may open and close hundreds of times per day, parking facility doors need to maintain their like-new appearance for years to come.
Security: Busy urban areas are experiencing higher rates of crime than ever. Parking structures are often the perfect setting for "smash and grab" thefts and personal assaults. That's why parkers and prospective residents frequently select the more secure structure. Aluminum doors provide greater protection than fabric doors or gates. Their fast open and close speeds help to keep unauthorized people out.
Reliability: Parking structure doors are often the only way in and out of the facility. That's why reliability is an absolute must – not just after the parking structure begins operation but for many years to come. The ideal door employs a simple, elegant design with a minimum of wear parts. That translates into less that can go wrong day after day, year after year.
Flexibility: Building owners and managers want tools that enable them to manage their facility doors remotely. From providing residents with multiple options for entry (key fobs, smartphone apps and more) to easy, intuitive administration of user access rights, a flexible access control toolset is a must.
The Solution to Parking Facility Door Future-Proofing
High-performance doors like the Rytec Spiral® door series meet all of these needs and more:
Aesthetics: Spiral® doors provide the perfect blend of heavy-duty, reliable design and architectural and aesthetic appeal. Crisp lines give them a stylish look that seamlessly integrates into any architectural design. The exclusive, patented Spiral® design guards against wear and tear on the aluminum panel, resulting in minimal maintenance, preserved aesthetics and longer life. Plus, they offer ultra-quiet operation for building and resident comfort.
The Spiral® door family offers architects and property owners several options for unique settings, including Lexan polycarbonate windows that let light in, ventilation slots for improved air circulation, a low headroom version that's ideal for older buildings and a hurricane version, the Spiral® HZ®, which is rated to withstand winds up to 175 mph and projectile impacts.
Security: Rytec Spiral® doors open and close at up to 100 inches per second. That reduces the likelihood of tailgating or unauthorized personnel entering the parking structure. For climate-controlled parking structures, such as those in condominium complexes, the fast open and close speeds also help to save energy. Rytec's new SmartSurround® door security and alert system, which is standard on most Spiral® doors, can monitor the door opening for people loitering nearby – an industry first. Its bright LED light strips can display a flashing pattern to scare them off.
Reliability: The exclusive, patented Spiral® design guards against wear and tear on the aluminum panel, resulting in minimal maintenance, preserved aesthetics and longer life. These high-performance doors are designed with minimal maintenance needs – including energy-efficient motors and self-diagnostic controllers – to ensure trouble-free, efficient operation, day in and day out. The Spiral® door series is made with durable materials to withstand changing and harsh weather environments, from snow and salt to high temperatures and hurricane winds. They're built to last.
Flexibility: Rytec's Activation and Access Remote Control (AARC) system provides architects and building owners with ample flexibility for managing facility access. It enables app-based Bluetooth activation from within 50 feet of a door. It can also be used with programmable key fobs, which is ideal for older residents who may not be comfortable using a smartphone app to activate their building's doors.
User accounts and permissions can be easily added, managed and deleted via an intuitive, spreadsheet-like interface, making it possible to accommodate the needs of many types of users. Permissions can be set to expire at a customizable date and time for each user.
In addition, the AARC web portal provides detailed reporting, so building owners can monitor any unusual patterns of activity.
In summary, Rytec Spiral® doors are designed to meet the needs of today's and tomorrow's parking facility users, managers and architects.
View all of Rytec's parking door options here or Contact Us today to discuss your parking facility door needs.