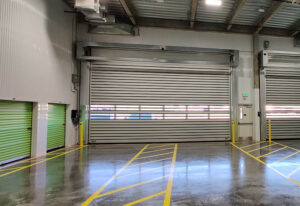 When it comes to selecting a door for your self-storage facility, you have a myriad of choices, including slide gates, swing gates, barrier arms and vertical lift-and-fold gates. Each of them has unique advantages and disadvantages.
But one solution you may not have considered is a high-performance rigid rolling door, which offers a set of characteristics perfectly suited for modern self-storage environments.
Driven by demographic and societal changes, the self-storage market is healthy and growing. Since 2016, the number of new storage facilities has more than doubled, while facility construction totaled $3.75 billion in 2021.
During the pandemic, demand for self-storage space surged, as many people downsized their homes and vehicles. Death, divorce, remarriage and other major life events also cause families to need additional storage space.
As sustainability becomes more important, a growing number of self-storage facilities are being built within vacant commercial buildings. The abundance of empty big-box retail stores and warehouses presents self-storage developers and owners with an irresistible opportunity to add storage capacity at a lower cost than new, ground-up construction. It's also a more sustainable strategy using less energy than new facility construction.
An excellent example of this approach is U-Haul, the third-largest U.S. self-storage operator with approximately 78,000,000 sq. ft. of self-storage space spread across nearly 900,000 units. U-Haul, which is committed to sustainability, estimates that approximately 70% of its owned storage properties are the product of adaptive reuse. To date, the rental giant has repurposed over 100 vacant former Kmart stores totaling over 12 million sq. ft. of former retail space.
Popular Door Types
New storage locations in small towns don't need much security. But facilities in urban areas do. The door or gate is the first line of defense that provides authorized users access to their storage units 24/7/365 – and helps keep unauthorized people out. Here are four of the most common door types used by self-storage facilities:
Slide gates are secure, but tend to be very slow moving. For safety reasons (primarily pinch hazards), they can only open at 1 inch per second, and that can cause traffic jams at busy facilities. Locations using this type of access need to be designed with enough room for the gate to retract when it's open. Also, because it uses a chain, belt or hydraulic pump to move the heavy gate, this design tends to have higher maintenance needs.
Swing gate: This design is similar to a slide gate, except it swings inward instead of moving sideways. Because of its large swing radius, it's usually used for one-way traffic only. If it needs to open in both directions, the access keypad must be placed far enough away that it's outside the gate's swing radius. Like a slide gate, the swing gate requires a mechanical drive that may be more maintenance prone as it gets older.
Barrier arm: This type of access control is common in self-storage facilities but is not very secure. A wooden arm, which may be up to 20 feet long, can be easily broken by a vehicle trying to gain access to the facility. Because of this, the barrier arm is only used during business hours and is usually paired with a slide gate for after-hours security.
Vertical lift-and-fold gate: This design utilizes several gate sections that pivot, enabling it to fold into a smaller space as it opens. Vertical lift-and-fold gates can open almost as fast as a barrier arm. But their more complex design usually requires more site preparation, including a reinforced concrete pad.
A More Modern Alternative
A high-performance rigid rolling door like Rytec's patented Spiral® design utilizes aluminum panels and seals around the sides and bottom to provide excellent security against unwanted intruders. When it opens, it rolls up into a self-contained header unit that also contains the motor to actuate the door. But this style of door can also open and close quickly – at up to 100 inches per second – so it can keep traffic flowing smoothly. It also leaves self-storage customers with an unmistakable "Wow!" first impression.
For climate-controlled storage facilities and older buildings that have been repurposed into storage facilities, the fast open and close speeds of these high-performance doors minimize air incursion, help keep inclement weather outside and maximize energy efficiency.
Modern high-performance doors can be paired with sophisticated access control systems that simplify customer management and enable facility owners to precisely control who can access the facility during specific windows of time.
These efficient doors can also be paired with a detection and alert system like Rytec's SmartSurround®, which uses AI to detect motion near the doorway. It also can be programmed to flash its LED light arrays to discourage loitering and potential break-ins.
Contact us today to learn more about our high-performance door solutions for security and self-storage facilities.