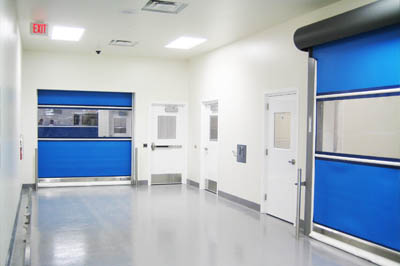 Doors are an essential element in clean rooms to protect the controlled environment from contamination and air ingress. They must be easy to clean and wash down to prevent the spread of viruses and germs. Another important consideration is advanced features that will help ensure the safety of people and equipment in the clean room and the entire facility.
Rytec's high-performance doors offer a full array of safety features to provide safeguards, maintain operational standards, and help you meet cGMP and FDA regulations. Here are the key safety features to ensure your high-performance doors operate efficiently, reliably and germ-free.
Door Safety Features for Clean Rooms
Pathwatch® and Pathwatch® II Safety Light Systems
These intuitive and customizable safety communication technologies provide advanced warning to vehicle drivers and pedestrians. Both the original Pathwatch system and the new Pathwatch II help increase threshold safety. Unlike conventional warning lights, they attract attention from nearly every angle and direction of travel — exactly when and where it's most critical.
LED lights. Bright, energy-efficient lights effectively warn personnel the door panel is about to move.
Intuitive lighting. The systems flash amber-colored lights when the door is about to move and red lights when the door is closing.
Adjustable. The flash rate is fully adjustable to match timing to the needs of your clean room environment.
Dual Thru-Beam Photo Eyes
Dual thru-beam photo eyes detect movement close to the door, then trigger the door to reverse direction. This advanced technology helps avoid door-traffic collisions.
High-Speed Operation
No more waiting for doors to open or close. With opening speeds up to 50 inches per second, high-performance doors help manufacturers keep raw materials and finished products moving quickly throughout the clean room. They also seal tightly when closed, which helps maintain the specific temperature, humidity and pressure conditions in clean rooms.
The speed of these doors minimizes the potential for equipment/door collisions. In the event one does occur, some doors can release from their tracks to prevent damage to the door and vehicle, and to prevent trapping operators and pedestrians in the doorway. High-performance doors also can be automatically reset and operational in minutes to minimize disruptions.
Touchless Activation
Rytec offers a variety of touchless activation systems that allow workers to open and close doors without any contact.
Wave-to-open. A worker waves their hand in front of a sensor to activate the door. This reduces the risk of spreading germs or chemical contamination and improves productivity with an efficient traffic flow. It's ideal for small operations with a significant amount of foot traffic.
Motion detector and presence sensors. These devices recognize when movement approaches the door to open it automatically without any direct contact from the worker.
Multi-functional devices. These enhanced options can be programmed to perform a variety of actions depending on the type of movement near the door.
Advanced³ Light Curtain Safety System
This safety system continuously monitors the door and areas adjacent to it for any potential obstructions. It offers intelligent signal processing to continuously monitor door openings for improved door performance and longevity. The system mounts in the door's travel path to register activity up to a height of 6 feet 6 inches from the doorway threshold to help prevent collisions. The sensitivity of these systems can be customized for different locations and applications.
Ry-Wi® Wireless System
This Rytec technology eliminates coil cords to provide two-way safety communication between the System 4® controller control box and the bottom bar of the door, enhancing safety at door thresholds.
Clean and Compliant Doors
At Rytec, we have door models that meet all stages of guidelines in a variety of compliance needs. Whether you need to meet compliance regulations or ensure easy cleaning and full wash-down capabilities, Rytec offers doors that meet the requirements of clean and compliant applications.
Contact us today to discuss your needs or check out our clean room door models for more information.