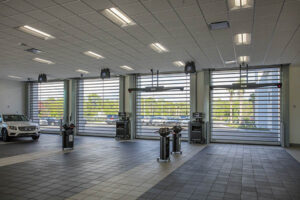 Today's customers and employees expect to be wowed by a positive service experience in your auto dealership. Creating a comfortable experience is critical to ensuring customers and employees have positive interactions every time they enter your business.
High-performance doors set the tone for customers' and employees' entire experience in your dealership. Here's how they also set a new standard of comfort for the automotive industry.
A Better Customer & Technician Experience
High Speed.
Rytec's high-speed, high-performance doors open at speeds of up to 100 inches per second. This helps keep the flow of customers moving through the service drive so they can get their vehicle serviced quickly and move on with their day.
Even Temperature.
Rytec doors have interconnected rigid panel slats, reinforced hinges and durable rubber membranes that create a tight seal. Combined with the high speed, these features minimize air ingress between the outdoors and the temperature-controlled interior. This gives you greater control over the temperature in your dealership, helping maintain a steady, comfortable environment through all kinds of weather. In the winter, high-performance doors keep the heat in and the cold out, and in the summer, they maintain a cool and comfortable interior area.
Greater Efficiency.
Fast opening and closing speeds, paired with better control over inside temperatures, can lead to lower energy use. This allows your dealership to reduce heating and cooling costs, which can lead to significant savings on energy bills.
Quiet Operation.
The smooth performance of Rytec doors reduces bothersome noise levels for customers and technicians. In particular, the Rytec Spiral® Series of high-performance doors offers a unique spiral track design that ensures no metal-to-metal contact for ultra-quiet operation. The Spiral track also guards against wear and tear on the aluminum panel, resulting in minimal maintenance, preserved aesthetics and longer life.
Welcoming Look and Feel.
Rytec doors create a welcoming environment for customers, setting the stage for an elevated interaction between customers and technicians.
Improved Productivity Rates.
High-speed performance assures efficient movement of vehicles into and out of service bays. This is important not only for your dealership's bottom line, but for decreasing wait times for customers and increasing your technicians' ability to service vehicles quickly.
Higher Employee Morale.
Service advisors will be comfortable enough to spend more time with customers, allowing them to be more productive and satisfied with their performance.
Attract Skilled Technicians.
Temperature-controlled environments that can maintain a consistent degree of comfort will set your dealership apart from the competition to attract highly skilled auto technicians.
A Perfect Fit.
Doors can be custom manufactured to your exact specifications to assure optimal fit and performance to protect your interior temperature and comfort.
Hear from auto dealerships around the country to see how they have used Rytec high-performance doors to increase comfort inside their buildings and service bays.
Rytec's high-performance doors can play a significant part in welcoming traffic into your dealership and keeping people comfortable while they're working in or visiting your dealership.
Contact us today to discuss your auto dealership's door needs.
Learn more about Rytec doors for auto dealerships here.