Spiral® LH® High-Performance Door
The Spiral® LH® (Low Headroom) door offers high-speed for high-traffic situations. It meets low headroom garage door requirements for parking garages and other commercial structures. Rigid, aluminum slat construction eliminates the need for a second security door and crisp lines give the Spiral LH a stylish look. The Spiral LH door is ideal for government, parking, security, and automotive dealerships. Also available are models (up to 18′ wide) designed with 9-inch tall full-vision (-FV) or full-ventilation (-VT) slats for specific applications or environments.
The Spiral LH is backed by a 5-year limited warranty on motor/mechanical components and materials, plus a 2-year limited warranty on electrical components. 
The Rytec Spiral® door portfolio includes models certified to withstand winds up to 175 miles per hour. See our hurricane-rated doors.
Special track design allows a door to fit with as little as 10 inches of clearance.
Innovative engineering uses a compact, variable speed motor to achieve opening speeds up to 60 inches per second within a smaller footprint.
Counterbalance system, patented spiral design and AC drive reduce wear and increase door longevity, with minimal preventative maintenance.
SmartSurround™ Advanced Detection & Alert System combines optical light curtains to monitor traffic and visual safety lights – all in one.
Advanced3 Light Curtain Safety System continuously monitors door opening.
Mechanical brake release lever allows door opening in the event of power failure.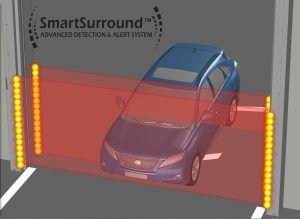 SmartSurround™ Advanced Detection and Alert System
Advanced software features next-generation pattern recognition and traffic-sensing technology
4-corner perimeter guard produced by artificial intelligence, optical light curtains and high-intensity LED signaling lights
Ideal for high-traffic areas where both vehicles and pedestrians are present
Double-walled, 6-inch, clear anodized aluminum slats
Integral weather seal between the aluminum slats
Heavy-duty hinge system for door panel assembly
Durable powder coated steel side columns and head console
Extension springs in side column
Insulated slats
Vision slats
Ventilated slats
Classic RAL and custom color match powder-coated finish
Electric reversing edge with Ry-Wi® Wireless System

See the Spiral® LH® in Action

Designed for Applications with Low Headroom
Product Sheets
Manuals
Drawings
Architect Resources
Product Sheets
Manuals
Drawings
Architect Resources