Upgrade Your View of High-Performance Doors with Lexan™ Vision Panels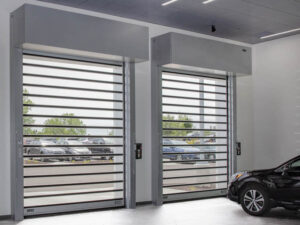 One unique way to distinguish your dealership from the competition – while attracting and keeping customers – is to create a lasting impression that generates a "Wow!" reaction. 
High-performance doors can set the tone with an aesthetically pleasing and efficient welcome into your dealership. But the door itself isn't the only thing that can wow your customers. Windows add the aesthetic look and superior functionality your business and your customers demand.
LEXAN™ Vision Slats: The new standard of aesthetics and functionality for the automotive industry
Based upon high-performance LEXAN polycarbonate resin, LEXAN sheets help customers around the world develop lightweight, durable parts with tailor-made performance. In high-performance service doors, shatter-proof and scratch-resistant LEXAN vision slats provide excellent visibility and natural light, while maintaining the security of a rigid door.
Impact and break resistant. These windows are lightweight, yet strong and extremely impact resistant to minimize the risk of window breakage. LEXAN has 30 times the impact strength of acrylic and 250 times the impact strength of glass. It's so tough that it's used in motorsport windshields.
Scratch and abrasion resistant. LEXAN vision slats are coated with MARGARD™ proprietary coating to protect the surface and withstand scratches and abrasions. MARGARD is applied to both sides of the window panel for increased durability and protection.
UV light resistant. The MARGARD coating enhances protection against yellowing, hazing and other damaging effects of the sun, making these slats ideal for exposed areas or harsh weather conditions.
Graffiti resistant. LEXAN sheets "defy graffiti to stick" while the MARGARD coating inhibits paint, adhesives and other materials from easily sticking to the surface.
Excellent clarity. These windows are formulated with pure resin to ensure the best possible optical clarity and light transmission qualities.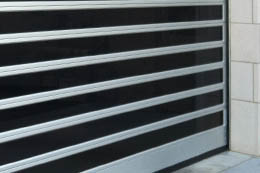 Clear and tinted options. Lexan vision panels are available in clear and translucent bronze or grey-tinted options, which significantly reduce solar heat build-up to help maintain interior temperatures.
Warranty. When properly maintained, windows with LEXAN sheets are covered by a 7-year warranty against breaks, coating failure, excessive haze, excessive yellowing or loss of light transmission.
Even better?
LEXAN vision slats are standard on Rytec Spiral® FV® Doors, offering a high-tech look and added safety for your dealership and service department.
Contact Rytec High Performance Doors today to discuss your service department door needs.