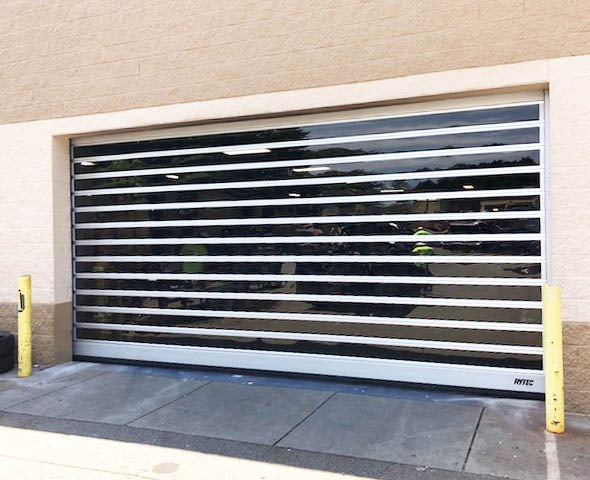 In your auto dealership's service department, high-performance service doors can make a positive impact on the comfort of customers, service staff and technicians working in the area.
Older sectional doors provide minimal insulation and seals against the outside environment, which can create comfort issues for customers and employees. Energy costs can increase as well because the dealership's HVAC system must work harder to keep the service area at a constant temperature.
Modern, high-performance roll-up doors provide superior protection against the elements with a range of features, including tinted window slats.
Reduce solar buildup and increase comfort
Spiral® FV® doors are one of the most popular choices for high-performance doors in auto dealerships. With a variety of tinted window options for solar heat gain reduction, Spiral FV doors help promote the comfort of your dealership's customers and staff.
Spiral FV doors are made with 9-inch, aluminum-framed vision slats, protected by shatter-proof and scratch-resistant Lexan™ polycarbonate.
Tint Options. These slats come in translucent bronze or grey tint to significantly reduce solar heat build-up.
Minimize Heat Buildup. Tinted windows help maintain interior temperatures in service areas better than standard, clear panels. In some climates, where daytime temperatures can reach as high as 120°F, this can make a dramatic impact on customer comfort and satisfaction as well as employee productivity.
Reduce Solar Transmission. Clear slats deliver 87% light transmission, with a solar absorption rate of 9% and a solar transmission rate of 84%. Bronze and grey options deliver 50% light transmission, with a 38% solar absorption rate and 65% total solar transmission rate. All of this adds up to less heat coming through the windows, allowing your facility to stay cooler and more comfortable.
UV-Light Resistant. The MARGARD™ coating on these window slats enhances protection against yellowing, hazing and other damaging effects of the sun, making them ideal for exposed areas or harsh weather conditions.
Improved Working Environment. The tinted LEXAN panels on Spiral FV doors minimize temperature shifts to help maintain internal temperatures. Better temperature consistency assures efficient movement of vehicles in and out of service bays, and keeps customers and employees happy.
Contact us today to discuss your service department door needs.