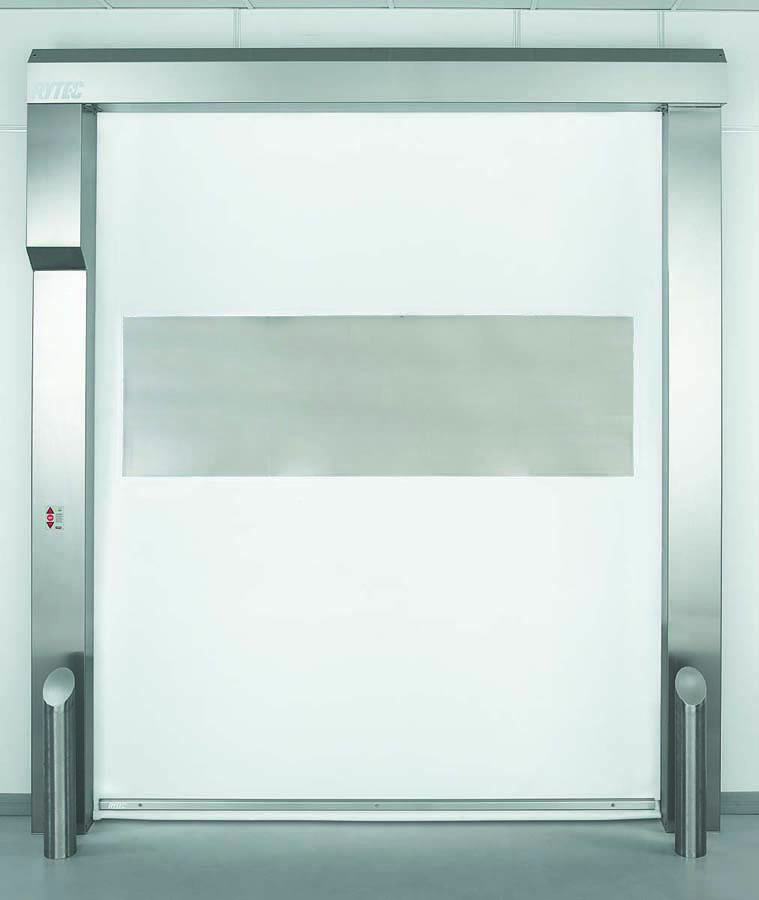 A clean room is designed, constructed and operated strictly to prevent the introduction, generation and retention of dust and other contaminants inside the room. The first step to ensuring a safe and clean environment is a high-performance clean room door.
High-performance doors are specially designed to ensure the highest levels of purity and quality in your clean room to meet regulatory compliance and product quality needs. They help maintain hygienic environments with a range of features that are seamlessly integrated into their designs:
Easy to Clean. High-performance doors come in a variety of materials that are designed for easy cleaning. Stainless steel and fiberglass composite materials are easy to clean and reduce contamination by germs, viruses and other bacteria. In addition, composite materials are both corrosion and chemical resistant. Multiple models are designed for wipe-down or full wash-down capabilities. For example, a stainless-steel door allows complete wash-down to virtually eliminate potential sites for bacteria growth.
Touchless Activation. High-performance clean room doors offer a wide range of touchless activation options not typically found on traditional doors. Hands-free operation of these doors minimizes manual touch zones to help control the spread of germs and viruses, reduce the risk of chemical contamination, ensure staff safety and improve productivity with more efficient traffic flow.
Quality Seals. Tight seals on high-performance doors minimize the air exchange between clean room and non-clean room areas and keep contaminants out to help maintain the cleanliness level, ensuring high-quality production.
Pressure Differential Control. A high-performance door helps maintain the correct pressurization within a clean room to prevent cross-contamination between environments and block contaminants from entering production areas. Some models can withstand pharmaceutical industry standard 0.10″ W.C. of room pressurization.
Meet Strict Compliance Needs. USDA, FDA and cGMP-compliant grade door panels and materials meet hygienic standards for meat, poultry, dairy, seafood and other food applications.
Durable Construction. Specifically engineered for high-traffic, high-cycle environments and designed for day-in and day-out use, high-performance doors keep operations moving without expensive ongoing maintenance.
Control Air Contamination. High-performance doors feature fast open and close rates that minimize air incursion and contaminant ingress.
Designed for Simplicity. Whether you need to meet compliance regulations or minimize maintenance requirements, high-performance doors provide the simple performance, reliability and ease of cleaning that clean room environments require.
Contact us today to discuss your clean room door needs.