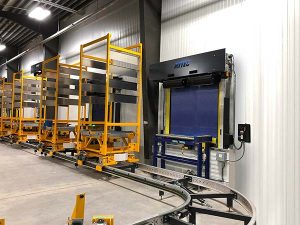 When specifying high-performance doors for automated storage and retrieval (AS/RS) warehouses, all doors are not created equally. Because material handling within these facilities is highly automated, the warehouse operating system, the door controller and the door must be tightly integrated.
Rytec's Sure-Seal® door is specially designed for non-live-traffic interior applications, including cold storage, where speed, low maintenance and dependability are critical. It's built for high-cycle facilities with frequent open-and-close cycles. Its peak speed of up to 100 inches per second ensures less air infiltration with each cycle, while the insulated panel and tight perimeter seals provide exceptional energy savings when closed.
The Sure-Seal door adds an input/output expansion board to the Rytec System 4® controller. It enables operators to integrate it with AS/RS control systems and precisely customize it to their operating needs.
For more simple applications or those that require a combination of automated and live operation, the basic configuration of the Sure-Seal door provides an affordable solution. The Sure-Seal can be customized for more demanding applications, including safety photo eyes, a break-away sensing bottom bar with an active reversing edge, an unheated blower and side column heaters.
Flexible Integration with AS/RS Control Systems
The Sure-Seal's expansion board transforms it from just another high-performance fabric door into an engineered solution that can be configured to each automated facility's requirements:
Integration inputs (signals from the AS/RS control system to the door) include but are not limited to: open door, stop door and close door.
Integration outputs (signals from the door to the AS/RS control system) include but are not limited to: door is open, door is not open, door is closed, door is not closed, door is in error/not automatic, door is preparing to close, door has been opened longer than desired time, door is locked for service and more.
In addition to these standard outputs, the System 4 controller software offers additional output capabilities, so facility managers can adjust the door's operation long after it has been installed. Outputs are dry contact/form C relay type outputs and can work with most system voltages.
The Sure-Seal is the only high-performance door in North America specifically designed for automated storage and retrieval applications. Contact us today to discuss your AS/RS needs.